Dates

Jul 17, 1984 Jun 13, 2021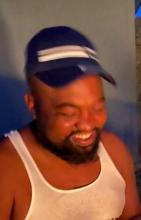 Vincent Aaron James, Jr., 36, passed away Sunday, June 13, 2021, in San Angelo.

Public Viewing will be from 9:00 AM until 8:00 PM with the family receiving friends from 5:00 PM until 7:00 PM Monday, June 21, 2021 at Robert Massie Funeral Home. Funeral services will be at 11:00 AM Tuesday, June 22, 2021, at Robert Massie Riverside Chapel. Cremation will follow under the direction of Robert Massie Funeral Home.

Mr. James was born July 17, 1984 if San Angelo. He was a 2002 graduate from Jack C. Hays High School in Buda, Texas. Vincent was a processor at Lone Star Beef. He was a member of the St. Paul AME Church. Vincent loved his family and had a big heart. He had faith in God above and loved God's word. Vincent loved to watch Professional Wrestling. His cousins were as brothers and sisters to him.

Survivors include his mother, Jan Colbert; three daughters, Analisa James, Faith James, and Amiyah James; two sons, Vincent Aaron "Tre" James, III, and Jackson James; a sister Annette Norton; a brother, Abel Michael Colbert; five aunts; three uncles; a special aunt Rosa Garivay. Vincent was preceded in death by his father, Vincent Aaron James, Sr.; and two uncles.
To send flowers to the family or plant a tree in memory of Vincent Aaron James, Jr., please visit our floral store.
PUBLIC VIEWING
Monday
June 21, 2021
9:00 AM to 8:00 PM
Robert Massie Funeral Home
402 Rio Concho Dr.
San Angelo, TX 76903
---
FUNERAL SERVICE
Tuesday
June 22, 2021
11:00 AM
Robert Massie Riverside Chapel
402 Rio Concho Dr.
San Angelo, TX 76903
Write Your Tribute