Dates

Feb 19, 1969 Jun 10, 2021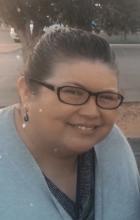 Isabel C. Avendano, 52, passed away Thursday, June 10, 2021, in San Angelo.

Public viewing will be from 9:00 AM until 8:00 PM Monday, June 14, 2021, at Robert Massie Funeral Home. Funeral Services will be at 10:00 AM Tuesday, June 15, 2021, at Robert Massie Riverside Chapel with Chaplain J.T. Tucker, Shannon Medical Center Chaplain, officiating. Burial will follow at Calvary Catholic Cemetery under the direction of Robert Massie Funeral Home.

Miss Avendano was born February 19, 1969 in Sonora. Isabel has been a resident of San Angelo since 1975. She worked at HEB doing various jobs for 6 years.

Survivors include her parents, David and Gloria Avendano of San Angelo; a brother, Mike Avendano and wife Adrienne of San Angelo; a sister, Rosa Perez and husband Mark of Palestine; many nieces, nephews, and cousins. Isabel was preceded in death by a brother, David Albert Avendano in 1987.
To send flowers to the family or plant a tree in memory of Isabel Avendano, please visit our floral store.
PUBLIC VIEWING
Monday
June 14, 2021
9:00 AM to 8:00 PM
Robert Massie Funeral Home
402 Rio Concho Dr.
San Angelo, TX 76903
FUNERAL SERVICE
Tuesday
June 15, 2021
10:00 AM
Robert Massie Riverside Chapel
402 Rio Concho Dr.
San Angelo, TX 76903
Write Your Tribute