Dates

May 01, 1985 Jun 09, 2021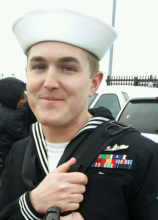 Cryptologic Technician Technical 1st Class Philip G. Marcotte, 36, passed away at his home on June 9, 2021.

Memorial Services will be at 3:00 PM, Thursday, June 17, 2021, at Taylor Chapel at Goodfellow Air Force Base. Military honor are afforded by the US Navy personnel at GoodFellow and the rifle teem out of Ft. Worth.

Philip was a decorated Sailor in the United States Navy who served honorably since 2005. Philip was born in 1985 to his parents Cynthia Adkins and James Marcotte Sr. and shortly after graduating from high school, Philip joined the Navy where he deployed on multiple ships, earned several awards, and was stationed in Florida, Virginia, England, and Texas during his 15- year career. When he was not working, he lived a quiet life and was a loving and devoted master to his dogs Moe and Dottie. He also liked to spend his time outdoors and hunt.

Philip is survived by his parents Cynthia Adkins and James Marcotte Sr and wife Tammy, his siblings Danielle Lawrence and James Marcotte Jr., and his two step siblings Ryan Brooks and Kimberly Brooks.
 
To send flowers to the family or plant a tree in memory of Philip George Marcotte, please visit our floral store.
Write Your Tribute