Dates

Mar 31, 1922 Jun 07, 2021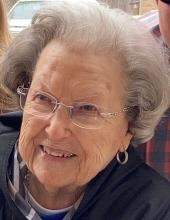 Mamie Spears Foster LeFevre passed away on June 7, 2021. She was born to Robert E and O.B. Brannon Foster March 31, 1922, in Union S. C. During World War II, she met Cornelious Albert LeFevre at a church dance while she was attending the South Carolina College of Medicine School of Nursing in Charleston, S. C. She joined the U.S. Navy after graduating as a Registered Nurse. After corresponding for three years with Albert during his service in India, they were married on December 31, 1945. 

In 1951, after dental school in Houston, Mamie and Albert chose to move to San Angelo, TX, to establish his dental practice. They raised three daughters in San Angelo, Sally, Susan, and Laura. Mamie adopted San Angelo as home and contributed to the community in these ways: Founding member of St. Mark Presbyterian Church, Junior League of San 
Angelo, PTA, Girl Scouts, San Angelo District Dental Auxiliary, Meals for the Elderly volunteer, and Shannon Medical Center Auxiliary volunteer. 

Her gifts included being a devoted wife, mother, grandmother, and great grandmother, a good friend exuding Southern hospitality, an accomplished seamstress, fabric artist, a creator of a beautiful home, and a good bridge partner. She was always ready to go whether it was a trip back home to South Carolina, family vacations across the US, dental meetings with Albert, Mo Ranch for Easter with her family and the Crawford family, and across oceans with her children, the Stitchers, the Leading Ladies and First Ladies. She had a full and beautiful life for 99 years. 

Mamie is survived by her daughters and their families: Sally Trusler Shirley (Joel Paul), Susan Pelletier (Tony), and Laura Malloy(Tim). Grandchildren: Mat(Ang) and Todd (Ashley) Trusler, Lauren and Trent (Rebekah) Pelletier, Chris(Sara), Clint(Brittany), and Allison Malloy( Josh Brooks). Great Grandchildren: Chloe Trusler, Adeline Brooks, Collins Malloy, Foster Malloy, Raleigh Pelletier, and Clara Brooks. Her brother, Bobby Foster, and numerous nieces and nephews survive her. 

She was predeceased by her beloved husband, C. A. LeFevre DDS, 1983, her parents, sisters Roberta Watkins, Betty Ready, and Jane Fujishiro; and son-in-law Mike Trusler. 

The family is grateful for her caregivers Stephanie, Shelly, Andrea and staff, and to St. Gabriel's Hospice for their loving care. 

Memorials are appreciated and may be made to St. Mark Presbyterian Church, 2506 Johnson Avenue, San Angelo, 76901; Meals for the Elderly, 310 E Houston Harte, San Angelo, 76903; or a charity of your choice. 

The memorial service will be Saturday, June 12, at 11:00 am at St. Mark Presbyterian Church. 

Family and friends can share online condolences at www.harper-funeralhome.com.
Write Your Tribute