Dates

Nov 24, 1946 Jun 07, 2021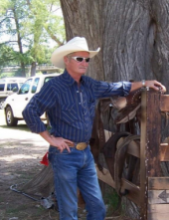 Charles William Lee, 74, of San Angelo passed away on June 7, 2021. 

Charles was preceded in death by father Veldie E. Lee, mother Lorene Stone, brother Donald E. Lee, sister Marian Hatcher, daughter Gerrie E. Lee, granddaughter Miranda Reed and great grandson Camden Lee Sharrock. 

He is survived by daughters Helen Lorene Lee of Houston, TX and Melissa Ann Rouse and husband Kristopher of Williamsport, PA. Grandson's Christian Lee Sharrock and wife Whitney of Huntsville, TX and Tristan Albanese of Houston, TX. Granddaughter's Lacy Sharrock and fiance Richard Orgitano of Williamsport, PA, Ashlynn Rodriguez and significant other Solomon Lawrence and Elizabeth Albanese and significant other Samuel Taylor. Great grandsons Hudson Lee Sharrock and Grayson Albanese. 

Also, former wife and mother of his two daughters Karen.
Write Your Tribute