Dates

Apr 02, 1969 Jun 06, 2021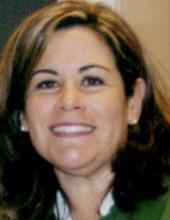 After a long illness Maria Cecilia (Ceci) Mayo of San Angelo, Texas entered the Kingdom of Heaven on June 6, 2021. Family and friends will forever miss her beautiful, vibrant spirit. 

Cecilia was born in Lima, Peru on April 2, 1969 to Martha Laos de Torres and Cesar Torres Gonzales. When she was six years old her family immigrated to the United States and settled in California. She was proud to become an American citizen on July 30, 2002. After finishing school Ceci began an adventurous 20-year career with Continental (United) Airlines which led her to live many places and travel abroad extensively. In 2006 she married Monte Mayo and retired a few years later to raise their daughter Emily. Cecilia was a devoted mother whose greatest joy was spending time with her daughter. 

Ceci loved her large family and had many warm memories of their time together. People who met Ceci throughout her life instantly found a warm, kind, and helpful "forever friend" with a heartwarming smile and a wonderful sense of humor. She loved working with children through Joy School, Awanas, VBS, and substitute teaching. Cecilia participated in Community Bible Study and deeply respected and cherished her Sisters in Christ. Her unwavering faith gave her great joy. She also had a profound love of animals and was known as the lady who helped lost animals reunite with their families or abandoned animals find new homes. 

Cecilia is survived by her husband Monte Mayo and daughter Emily Mayo of San Angelo, Texas, her mother Martha Laos de Torres of Arcadia, California, her brothers Juan Torres (spouse Aurora) of Guadalajara, Mexico, Ricardo Torres of Lima, Peru, Luis Torres (spouse Karla) of Aliso Viejo, California, Julio Torres (spouse Gisele) of Laguna Niguel, California, Miguel Torres (spouse Monica) of Porter Ranch, California, and sister Martha Querube Palillo (spouse Carlos) of La Verne, California. She is also survived by her aunt and many beloved nieces, nephews, and cousins. 

She is preceded in death by her father Cesar Torres Gonzales, brother Cesar Torres, and brother Jose Torres. 

A Celebration of Life to honor Cecilia will be held at 2:30 on June 19, 2021 in the chapel at Harper Funeral Home, 2606 Southland Blvd, San Angelo, Texas. In lieu of flowers, Cecilia had expressed a hope that donations would be made to animal rescue shelters.
Memorial Service
Saturday, June 19, 2021
2:30PM
Harper Funeral Home  
2606 Southland Boulevard 
San Angelo, TX 76904
Write Your Tribute