Dates

Aug 30, 1922 Jun 04, 2021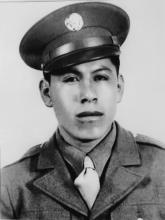 Felix T. Guanajuato, Sr., 98, passed away Friday, June 4, 2021, at his home surrounded by family.

Public viewing will be from 9:00 AM until 8:00 PM with the Rosary being prayed at 6:00 PM Wednesday, June 9, 2021, at Robert Massie Riverside Chapel. Mass will at 10:00 AM Thursday, June 10, 2021, at St. Joseph Catholic Church. Burial will follow at Calvary Catholic Cemetery under the direction of Robert Massie Funeral Home. Military funeral rites are afforded by US Army Ft. Hood Honor Guard. Please wear a mask by family request.

Mr. Guanajuato was born August 30, 1922 in Del Rio, Texas. Felix was a veteran of the US Army serving in Italy during WWII, receiving the Victory Medal and a Good Conduct Medal. He married Amelia Talamantez on March 15, 1947 in Del Rio. She preceded him in death on November 10, 2007, shortly after celebrating their 60th Wedding Anniversary. Felix and Amelia were blessed with raising their seven children in Del Rio, later moving to San Angelo. Felix was a general contractor for 47 years, proudly owning and running his own business in Del Rio. He was a member of St. Joseph Catholic Church, American Legion, and Disabled Veteran Association.

Survivors include four daughters, Mary Maldonado, Dora Rivera and husband Marcos, Christina Hill and husband Adolfo, and Sandra Hernandez and husband Artemio; two sons, Jose Angel Guanajuato, and Felix Guanajuato, Jr. and wife Mary; two sisters, Angelita Mena, and Juanita Salas; 12 grandchildren, Adriana Hill Benavidez and husband Michael, Gabriel Hill and wife Corri, Mark Rivera and wife Lena, Christie Rivera Saenz and husband William, Felix Guanajuato III and wife Yvonne, Luvina Guanajuato Thomas and husband Andrew, Angelyn Guanajuato Telles and husband David, Salyna Guanajuato Galvan and husband Fred, Jessica Guanajuato, Manuel Cervantes and wife Deyanira, and Monica Hernandez Bell and husband Charles; 14 great grandchildren. Felix was preceded in death by a son, John David Acevedo; five brothers; and two sisters.

The family wishes to acknowledge and give special thanks to several individuals for the difference they made in Felix's life: to Edelmira Talamantez Martinez (sister -in -law), for the exceptional care she, provided him for 13 years. To Olga and Janie Ortiz, they are grateful for the role they played in his care for the past three years. To his nephew Ruben Guanajuato, the family is appreciative for the love and support he contributed which enriched his uncle's life. To Marcos Rivera (son-in-law), special thanks for his display of love and compassion throughout the years caring for Felix. The Guanajuato Family will forever be grateful and hold them close to their hearts.

Those honored to serve as pallbearers are Gabriel Hill, Mark Rivera, Manuel Cervantes, Felix Guanajuato III, John David Acevedo Jr., and Ruben Guanajuato.
To send flowers to the family or plant a tree in memory of Felix T. Guanajuato, please visit our floral store.
PUBLIC VIEWING
Wednesday
June 9, 2021
9:00 AM to 8:00 PM
Robert Massie Riverside Chapel
402 Rio Concho Dr.
San Angelo, TX 76903
---
MASS
Thursday
June 10, 2021
10:00 AM to 11:00 AM
St. Joseph Catholic Church
301 W. 17th. Street
San Angelo, TX 76903
COMMITTAL
Thursday
June 10, 2021
11:00 AM
Calvary Catholic Cemetery
1501 W. Ave N
San Angelo, TX 76903
Write Your Tribute