Dates

Sep 24, 1921 Jun 03, 2021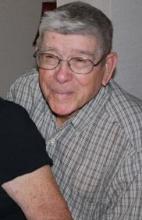 John Martin "Big Boy" Boykin, age 99 of San Angelo entered the gates of Heaven on June 3, 2021, at his home.
Public viewing will be on Tuesday, June 8, 2021, from 10:00 AM until 8:00 PM with a visitation from 5:30 PM until 7:30 PM at Robert Massie Funeral Home. A graveside service will be held at the Hayrick Lodge Cemetery in Robert Lee, Texas on Wednesday at 1:00 PM with military honors. Dr. Dan Jackson of Bethel Baptist Church will officiate.
John was born in Edward County, Texas on September 24, 1921, to his parents Frank and Callie Sanson Boykin. In 1942 he entered the U.S. Army Air Corp and served valiantly throughout WWII until 1950. John was awarded the Good Conduct Medal, 4 Overseas bars, The American Theater Ribbon, and the Victory Medal just to name a few. He was exceptionally proud of his military service and for the country he served.
After the military, John worked as both a truck driver and in construction, building homes. Some of his favorite pastimes included hunting, fishing, and spending time drinking coffee with his buddies. He was a kind, loving man that stood his ground and on occasion could be a prankster. John loved his Lord and was a member of Bethel Baptist Church for many years, where he also served as a deacon. 
John was preceded in death by his loving wife June.
Write Your Tribute