Dates

Dec 20, 1954 Jun 02, 2021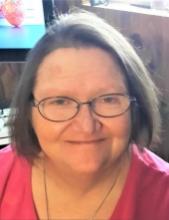 Bobbie Lee Haddock passed away after a long illness on Wednesday, June 2nd in Abilene, Texas at the age of 66. 
Bobbie was preceded in death by father, William Harold Lumbley, son, William Glenn Haddock, and husband Hollis Haddock. She is survived by her mother, Floy Lumbley, sister Lisa Pippin, both of San Angelo and children Kimberlee Marcinko of Reedsville, Ohio and Daniel of Amarillo, Texas. Also survived by four grandchildren, Leeann, Emalee, Lillee, and Kahlee. 
Bobbie was born on December 20th, 1954, in Hamlin, Texas to William Harold and Floy Lumbley. She attended Lakeview High School and married Hollis Haddock on August 20th, 1983. She worked as a seamstress, in photo restoration, and was a beloved homemaker.
In her spare time, she enjoyed listening to all kinds of music, doing arts and crafts of all kinds, camping and most of all spending time with her children and grandchildren. Her family was her life, she adored spending time with them. Bobbie had a beautiful heart and was always happy and smiling. She made friends wherever she went and would always be there for her family and friends. Her great love for us will remain in our hearts forever and we will dearly miss her. 
The Funeral Service will be 10:00 A.M., Saturday, June 5, 2021, at Lakeview Bible Church with Pastor R.A. Evans officiating. Bobbie will be available for viewing from 2:00 P.M. – 7:00 P.M., Friday, June 4, 2021, at Harper Funeral Home. 
Family and friends may share condolences and sign the online register book at 
www.harper-funeralhome.com.
Viewing
Friday, June 04, 2021
2:00PM - 7:00PM
Harper Funeral Home  
2606 Southland Boulevard 
San Angelo, TX 76904
Funeral Service
Saturday, June 05, 2021
10:00AM
Lakeview Bible Church  
4825 Grape Creek Road 
San Angelo, TX 76904
Write Your Tribute