Dates

Dec 19, 1936 Jun 02, 2021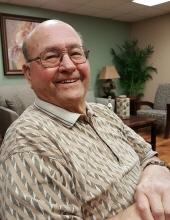 Anyone that has crossed paths with Bill Fannin has been welcomed by his warm smile, firm handshake, and sincere kindness. It didn't take long to learn that if there was anything you needed, Bill had it covered. Ora, his mother, said that Billy was always so helpful and not a bit of trouble. He always checked to see what she needed before doing anything else. His coaches from grade school, through college and semi-pro baseball spoke of his strong work ethic, kindness, and leadership. He had a special relationship with his sisters, Bobbie, and Doris. They knew their brother had their back. When Marilyn Darville walked into the White's Store in Odessa Texas to buy a TV, Bill remembered his crush from high school and she became the love of his life. They were married in 1960. Their 3 daughters Mindy, Elaine, and Jacque have known what it feels like to be deeply loved, cared for, and adored throughout their lives. A truly priceless gift! Then came the grandchildren, David, Noel, Angie, Rebekah, Billy, and Branson. 
They along with all of the nieces, nephews, and children far and wide found out that his love and adoration was unlimited. He brought them all laughter with his funny sayings, "scary faces", dog barking, and secret chocolate deliveries. His love spilled over to the community of San Angelo where he managed the White's Home and Auto store for over 40 years. His welcoming smile was contagious and his generosity knew no bounds. The San Angelo Downtown Lions club enjoyed his jokes and jabs as their "tail twister" at the meetings. Baseball was his favorite sport, but bowling was a close second. He loved being a part of the Lion Club's bowling team. Bill Fannin touched so many lives, he was a true treasure to all. The impact he made on his family and community will live on because of the love and kindness he shared so freely. 

Billy Charles Fannin, 84, passed away June 2, 2021 peacefully in his home in San Angelo, TX with those he loved so well. A celebration of his life will be held on Monday June 7th at 10:00 with family visitation on Sunday June 6th from 2:00 - 4:00 both at Harper Funeral Home 2606 Southland Blvd, San Angelo, TX. Bill was born in McCamey, TX on December 19, 1936 to Ora and D. F. Fannin. He graduated from Odessa High School in 1954, and went on to play baseball and study business at Southern Methodist University in Dallas where he is featured in their sports Hall of Honor for his many baseball accomplishments. He moved on to play semi-pro baseball in Alpine, Tx, and later Kansas. His business career started and ended at Whites Home and Auto first in Odessa and then San Angelo, Texas. Bill lived in San Angelo, Tx for 54 years, and enjoyed a full and content life. The family would like to thank his niece Kathy Fannin McGough, Albert Wilson with Texas Senior Companions, and the caregivers with Concho Hearts Hospice. Special thanks to Bill's honorary daughter Nikki Root who loved and cared for him through his last year. 

He was preceded in death by his beloved wife Marilyn Fannin, father D.F. Fannin, mother Ora Harris Fannin, siblings Daniel Fannin, Bobbie King, Doris Britton. He is survived by his daughters Mindy Fannin and Jacque & Todd Moore all of San Angelo, and Elaine & Will Tate of Richardson Texas. Grandchildren, David James III of Florida, Rebekah Tate and William "Billy: Tate both of New York, New York; and Branson and Jordan Moore of San Angelo, and many nieces and nephews throughout Texas and Portland, Oregon.
Visitation
Sunday, June 06, 2021
2:00PM - 4:00PM
Harper Funeral Home  
2606 Southland Boulevard 
San Angelo, TX 76904
Celebration of Life
Monday, June 07, 2021
10:00AM
Harper Funeral Home  
2606 Southland Boulevard 
San Angelo, TX 76904
Write Your Tribute