Dates

Aug 09, 1949 May 28, 2021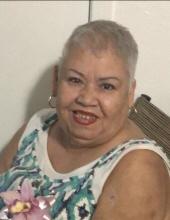 Maria Olemda Flores, of San Angelo, passed away peacefully at her home on May 28,2021 at the young age of 71. She was born on August 9, 1949 in Valle Hermoso, Tamualipas Mexico, to parents, Juan and Valentina Flores. 

Guadalupe R. Pena, was her partner in life for almost 45 years at the time of her death. She loved spending time with her kids, grand-kids and her pets. She was the bar owner of "Las Damas" for over 20 years. Her favorite pass times were shopping at Goodwill and playing bingo. She never met a stranger. 

Maria is survived by her partner, Guadalupe R. Pena, her brother, Buenaventura Flores and wife, Fausta Flores, her kids, Maria "Lupe" Puente, Bertha Urteaga and husband, Juan Urteaga, Janie Flores, Martin Flores, Joe Pena, Juan Pena and wife, Nikki Pena, and Alex Lopez and grandkids, who she called "mis hijos". She is proceeded in death by her parents, her two sisters, Celia Casillas and Estefana Lopez, and two brothers, Lolo Flores and Felix Flores. 

Family and friends are invited to attend a Celebration of Life gathering on Saturday June 5, 2021 at 2:00 p.m. at Harper Funeral Home located at 2606 Southland Blvd. We ask that everyone not wear your traditional black color, but green, as this was her favorite color.
Memorial Service
Saturday, June 05, 2021
2:00PM
Harper Funeral Home  
2606 Southland Boulevard 
San Angelo, TX 76904
Write Your Tribute