Dates

Aug 27, 1954 May 28, 2021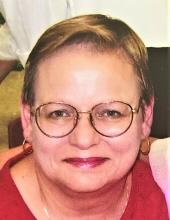 JoAnn Williams passed away peacefully surrounded by family at the age of 66. A graveside service will be held on Thursday, June 3, 2021, at 10 am at Lawnhaven Memorial Gardens. She was born August 27, 1954, in Falfurrias, Texas and passed away on May 28, 2021. We rejoice in knowing she is healthy, happy, and reunited with her husband and parents in heaven with the Lord.  
She enjoyed watching TV, playing on her IPAD, and cuddling with her cat named "Baby Girl". Her greatest joy was visiting with her sons, daughter-in-law, granddaughters, siblings, and their family, as well as the wonderful people who delivered her meals from Meals for the Elderly. She was loved by all who knew her. 
She is preceded in death by her parents, Bill and Ruby Weston, and her husband, Mark Williams. JoAnn is survived by her sons, Richard Wadley and wife Michelle of San Angelo, and David Wadley of Silverdale, Washington; Grandchildren, Alexis Wadley of San Diego, California, Miranda, Maddie, and Ella Wadley of San Angelo; Siblings, Wayne Weston, and wife Neena of DeSoto, Texas, Linda Compton of Hobbs, New Mexico, Patty Rush and husband Otis of San Angelo, nieces and nephew, and great nieces and great nephews. Family and friends may share condolences at www.harper-funeralhome.com.
Graveside
Thursday, June 03, 2021
10:00AM
Lawnhaven Memorial Gardens  
4989 FM Highway 1223 
San Angelo, TX 76905
Final Resting Place
Lawnhaven Memorial Gardens 
Write Your Tribute