Dates

Apr 27, 1929 May 28, 2021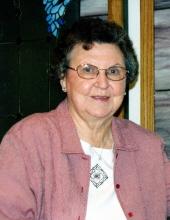 Well done, good and faithful servant! – Matthew 25:21 
Frances Juanita "Nita" McAlpine was welcomed into the arms of her Lord and Savior on May 28th, 2021 at the age of 92. Nita was born on April 27, 1929 in Eola, Texas to William Gilbert "Gibby" and Lola Biggs McAlpine. She was the fifth of six children. Nita graduated from Eldorado high school. She began her career in base supply at Goodfellow Air Force Base in 1951 and continued working there forty years until her retirement in 1991. While at Goodfellow, she received many awards including the Civilian of the Year award in 1984. 
Family and her love for Jesus Christ were the most important things in Nita's life. At an early age, Nita professed her faith in Jesus Christ. She was a member of Park Heights Baptist Church where she served faithfully as a Sunday school teacher and as a member of the fellowship/hospitality committee. Nita never had any children, instead loving each of her nieces and nephews as if they were her own. She was the aunt everyone wished they had. She continued this love for her family with her great-nieces and nephews and even her great-great-nieces and nephews.  
Nita was preceded in death by her parents and her siblings, Ella Mildred McAlpine; Fay Crider and her husband Roy; Wesley McAlpine and his wife Mary; William "Pat" McAlpine; and Harlan McAlpine. She is also preceded in death by her special cousin, friend, and shopping partner, Chloe Jane Hill. 
Nita's beautiful life will forever be cherished in the lives of her family, including her nieces and nephews, William "Mike" McAlpine and his wife Kathy of San Angelo, Texas; Rick Crider and his wife Mona of Plano, Texas; Mary Frances Pryor and her husband Lynn of Murfreesboro, Tennessee; DeAnn Salehi and her husband Jeff of Midland, Texas; Susan McAlpine and her husband Sam Kent of Sonora, Texas; and Barney McAlpine of Eldorado, Texas. Nita is also survived by great-nieces and nephews, Missy Terrell and her husband Doug of San Angelo, Texas; Jacqueline Crider and her husband Michael Backes of Lewisville, Texas; Richard Crider and his wife Laura of Richardson, Texas; Daniel Pryor of Murfreesboro, Tennessee; Greg Pryor of Murfreesboro, Tennessee; Cameron Kelly and her husband Winston of Telluride, Colorado; Hazel Kent of Sonora , Texas; Lillian Kent of Sonora , Texas; and numerous great-great nieces and nephews. 
Nita also had a special family bond with the Biggs, Danford, and Ratliff families. 
A funeral service will be at 2:00 p.m. on Wednesday, June 2, 2021 at the chapel at Harper Funeral Home and will be officiated by Lynn Pryor. Family will be available for visitation beginning at 12:00 p.m. Burial will immediately follow at Lawnhaven Memorial Gardens. The family would like to extend a heartfelt thanks to the staff at Regency House and Hospice of San Angelo for their loving care of Nita during her final days. 
She asked for so little but gave so very much in return.
Visitation
Wednesday, June 02, 2021
12:00PM - 2:00PM
Harper Funeral Home  
2606 Southland Boulevard 
San Angelo, TX 76904
Funeral Service
Wednesday, June 02, 2021
2:00PM
Harper Funeral Home  
2606 Southland Boulevard 
San Angelo, TX 76904
Write Your Tribute