Dates

Sep 05, 1930 May 26, 2021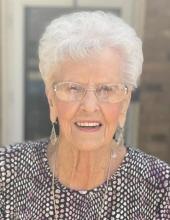 Evahjo Maxine Payne Bozeman, of San Angelo, passed away on May 26, 2021 at home at the age of 90. She was born September 5, 1930, in rural Foard County, Texas to Thomas Copeland Payne and Vera Francis (Hale) Payne. 
Having lost her father at the age of 2, she learned the value of having a large and loving family that cared for each other. She fondly remembers her childhood and the events and circumstances that bonded them together. Her greatest memories and stories generally centered around the love of her eight siblings and their families and led her to cherish the Payne Family Reunions. 
Evahjo married William Garland Bozeman on February 23, 1957 at the First United Methodist Church in Ballinger, Texas. They were married for 43 years before his death in 2000. She graduated from Ballinger High School in 1948 and was a Bearcat until the end. She had only one job during her life. She was a clerk and supervisor at the Lone Star Gas Company service center for 46 years. That became her Work Family and she loved them very much. She also found the time to work for her church, and was always available to the PTA, Team Mom, the Booster Club, and wherever her children signed her up. She also had a special place in her heart for the Christmas in April program. 
She is survived by her three children, Michael G. Bozeman and wife Marguerite of San Antonio, Texas; Sherri Tipton and husband Frank of San Angelo, Texas; and Jeffrey J. Bozeman and wife Trudy of San Angelo, Texas. Also, she is survived by ten grandchildren, Lindsey Biggs and husband Jon of Boerne, Texas; Bailey Winston and her husband Joe of Sequin, Texas; Seth Bozeman and his wife Kendra of Brady, Texas; Preston Couch and wife Rachel of Kermit, Texas; Caroline Couch and friend Brent Snyder of La Vernia, Texas; Braden Balentine and wife Cardi of Boulder, Colorado; Colten Balentine and wife Nicki of Seagoville, Texas; Shannon Tipton and husband Jake Moran of College Station, Texas; Lindsay Tipton and Jose Chavez of San Angelo, Texas, and Hannah Heare and husband Daniel of San Angelo, Texas. She was also blessed by 5 great-grandchildren and loved them mightily, Artemis Bozeman and Briar Biggs of Boerne, Texas; Archer and Simon Heare of San Angelo, Texas; and Jensen Balentine of Seagoville, Texas. Evahjo also leaves behind numerous nieces and nephews that she loved very much. She did have some favorite nieces and nephews but their identities shall go with her to her grave! 
She was predeceased by her husband, William G. Bozeman on August 12, 2000. Also, granddaughter Allison Paige Bozeman. Her deceased siblings include Eron Hudgens, Evelyn Klutts, Earldean Damron, Ella Mae Singleton, Ethelene Lee, Eugene Payne, Edgar Payne, and Elroy Payne and their loving spouses. 
A funeral service will be held on Saturday, May 29, 2021 at Sierra Vista United Methodist Church in San Angelo at 11:00 a.m. She will be laid to rest at a private graveside service at Lawnhaven Memorial Gardens in San Angelo, Texas with the help of Pastor Stan Whites and Harper Funeral Home. 
Memorial ideas from Evahjo include the Sierra Vista Bunk and a Prayer ministry or the charity of your choosing. The family would like to extend a heartfelt gratitude to all of those that assisted in her care, including her special friends Inise Wong and Kinisimere Sakoro, and the staff of Hospice of San Angelo.
Funeral Service
Saturday, May 29, 2021
11:00AM - 12:30PM
Sierra Vista United Methodist  
4522 College Hills Blvd 
San Angelo, Tx 76904
Final Resting Place
Lawnhaven Memorial Gardens 
Write Your Tribute