Dates

Jul 01, 1945 May 25, 2021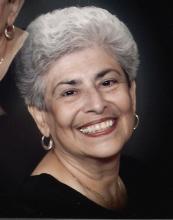 Judy Kay Ammerman, 75, passed away Tuesday, May 25, 2021, at her home surrounded by her loving family.

There will be a family visitation during the viewing of Judy from 1:00 PM until 5:00 PM Friday, May 28, 2021, at Robert Massie Funeral Home.

Mrs. Ammerman was born July 1, 1945 in East Moline, Illinois to August and Betty Gomez. Judy attended United Township High School in East Moline. She married Frank Ammerman on September 22, 1962 in East Moline. Judy loved to travel and riding her bicycle all over town. She took pride in her rose bushes. She loved her furry grand dogs. The family wishes to thank Kindred Hospice for their loving care during this difficult time.

Survivors include her husband, Frank Ammerman; two daughters, Tammy LeCleir and husband Tony, and Christine Thorpe; three brothers, Dan Gomez and wife LeAnn, Tony Gomez and wife Linda, and Bill Gomez and wife Val; two granddaughters, Angie Borgeson and spouse Kristen, and Kayla Demarlie and husband Kyle; two great granddaughters, Mya Demarlie, and Macie Demarlie; a great grandson, Baylor Demarlie; and specila friends, Mark and Wendy Coggins.
 
To send flowers to the family or plant a tree in memory of Judy Kay Ammerman, please visit our floral store.
PUBLIC VIEWING
Friday
May 28, 2021
1:00 PM to 5:00 PM
Robert Massie Funeral Home
402 Rio Concho Dr.
San Angelo, TX 76903
Write Your Tribute