Dates

Sep 12, 1934 May 22, 2021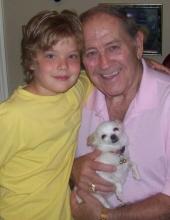 It is with much sadness, we report the passing of our precious husband and father. After struggling with heart failure, Mickey passed into the arms of the Lord and savior, Jesus Christ on May 22, 2021. 
Mickey was born in Brady, TX on September 12, 1934 to Aaron and Annie Behrens Sallee. The family, which included his older brother Bill, moved to San Angelo in 1945. He went all through school here and graduated from San Angelo High School, where he excelled in football, with the class of 1953. After graduation he attended college at the University of Texas. He later joined the Army and spent three years in Japan. After his discharge, he returned to San Angelo and married Colleen Fitzgerald. They had two sons, Craig Sallee and Col Sallee. During this time he started work at San Angelo Savings and Loan where he worked his way up to the position of Chairman of the Board. Mickey was credited with the building of several motels and restaurants here and in Waco, TX. 
In 1983, he married his "Little Darling" Robbie and became a wonderful father to her two sons, Chris Coker and Mitch Coker. Mickey and Robbie moved to Dallas in 1984 and spent years away until moving back to San Angelo in 1998. They celebrated 38 years of marriage on the anniversary of March 5, 1983. 
Mickey was one of those people that could be said "to know him was to love him." His family adored him and he truly loved us too. His family and many friends will miss him terribly. His smile and quick wit will be remembered always. His memory will be cherished by his wife, four sons, six grandchildren and several great grandchildren. 
Mickey was a member of Johnson Street Church of Christ. Please make any donations in Mickey's name to Rust Street Ministries, 803 Rust St. San Angelo, TX 76903. 
Due to Several circumstances a celebration of Mickey's life will be held at a later date. 
My darling Mickey, we'll see you on the other side.
Write Your Tribute