Dates

Apr 15, 1930 May 16, 2021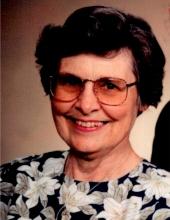 Alice J. Hancock of San Angelo died Sunday, May 16, 2021 at Shannon Hospital. Visitation will be at Harper Funeral Home on Wednesday, May 19 from 5:00-7:00 PM. Funeral service will be held in the sanctuary at First Baptist Church at 10:00 AM on Thursday, May 20 with burial following at 11:00 AM in Fairmount Cemetery. 
Alice was born April 15, 1930 to Allan E. and Alice L. Johnson in Milwaukee Wisconsin. She met her future husband John on July 4, 1952 and they were married on March 5, 1955. She accepted Christ and was baptized as First Baptist Church in 1955. Alice was active as a Sunday school leader, Vacation Bible School, bible study groups and other church activities. Alice volunteered with Shannon Auxiliary for many years including serving as treasurer. She was proficient at Braille benefitting the blind by transcribing a number of books. Alice helped her husband with Lionistic activities and was well respected by many Lions throughout Texas. 
She and the family lived in Texas, New York, Florida and Washington State before returning to San Angelo in 1985. In her latter years Alice and John enjoyed traveling, visiting all 7 continents. 
Alice was preceded in death by her parents and her brother Allan Johnson. Survivors include her husband John Hancock, son John A. Hancock, daughter-in-law Janet and two grandsons, Kyle and Nolan.
Visitation
Wednesday, May 19, 2021
5:00PM-7:00PM
Harper Funeral Home 
2606 Southland Boulevard 
San Angelo, TX 76904
Funeral Service
Thursday, May 20, 2021
10:00AM
First Baptist Church 
37 E. Harris Ave. 
San Angelo, TX 76903
Final Resting Place
Fairmount Cemetery 
1120 W. Ave. N 
San Angelo, TX 76901
Write Your Tribute