Dates

Oct 11, 1946 May 15, 2021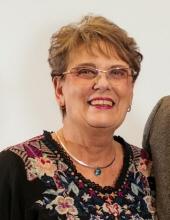 Chloe Jane Ratliff Hill went to be with her Lord and Savior on May 15, 2021 after a 9 week sudden illness. Chloe was named after her dad's mother, Chloe Jane Hunt Ratliff. She was born October 11, 1946, the second daughter of Bill and Eunice Ratliff. 
Chloe Jane was a beloved Mother, MiMi, sister, aunt and friend. She has entered salvation's rest, a peace so sweet that it transcends all understanding. 
She was born and raised in San Angelo, graduating from Central High School and attended Mary Hardin Baylor University. She met the love of her life Carrol Hill while visiting a friend's home. Carrol and Chloe soon married and built their life and family together, sharing more than 50 years together. 
She was the beloved Mother of 3 sons: Craig, Clint and Clark. She not only loved her own children, but sowed into the lives of many kids. She went to work for SAISD in 1992 first as a substitute and then as an Instructional Aide at Glenmore and Ft. Concho Elementary, where she retired in 2009. She spent "extra" time after school ministering to children and adults. She taught in several different areas and was known as the lady who loved everyone and had pretty fingernails. 
Her love language was in the JOY of cooking! She won many blue ribbons for her delicious pies and cakes. She was a woman of hospitality and helped with many beautiful wedding and anniversary receptions and church events. She and her sister Mary Lou also had a catering business called Concho Catering. 
Carrol and Chloe were faithful members of Freedom Fellowship Church in San Angelo. They loved having life group in their home, preparing communion weekly and ministering to couples who were hurting. Her love and compassion for helping others and her legacy of faith will continue for generations to come. 
Our parting is not the end of our relationship with Chloe Jane only an interruption. She will be remembered and treasured as a Proverbs 31 Woman. 
Jesus said, "I am the resurrection and the life. He who believes in ME, will live, even though he dies; and whosoever lives and believes in ME will never die." John 11:25-26 
Chloe was preceded in death by her husband Carrol, middle son Clint and her Father and Mother, Bill and Eunice Ratliff. 
She is survived by her oldest son Craig Hill and his wife Becky, her youngest son Clark Hill, Grandson's Chase Hill and his wife Kelli, Jacob Daughtry and his wife Kaylee and Matt Addison, great grandson Wyatt Hill, sisters Billie Faye Sawyer (Billy Louis Sawyer) and Mary Lou Watkins (Harold Watkins) and brother in law Durwin Hill and wife Donna. 
A special thank you to Hospice of San Angelo and the staff at New Haven Assisted Living and Memory Care of San Angelo. 
Memorials may be given to Freedom Fellowship or a charity of your choice.
Memorial Service
Wednesday, May 19, 2021
1:00PM
Freedom Fellowship Church 
342 S. Chadbourne 
San Angelo, TX 76903
Write Your Tribute