Dates

May 29, 1923 May 12, 2021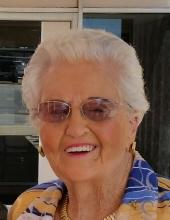 Winnie Maurine (Posey) Long, age 97, of San Angelo, Texas passed away on Wednesday, May 12. A celebration of life service will be held at First Christian Church, 29 North Oakes, San Angelo, Texas on Saturday, May 22 at 10:00 a.m. with the Rev. T. J. Shoop-York officiating. Following the service, an inurnment will be held in the columbarium. 

Posey was born May 29, 1923, in San Angelo, Texas to Leonard Ulmont and Winnie Davis Camp Posey. She attended area schools and graduated from Water Valley High School, Water Valley, Texas in May 1940. She attended San Angelo Junior College from 1940-1941. 

Posey married Everett Keith Long of Brook, Indiana in June 1945 lacking just 13 days of celebrating their 68 years of marriage before Keith's passing in June 2013. 

Posey was active in all sports in high school and even played basketball. She was an avid bowler and secretary of several leagues. She loved all sports even after she could no longer participate, she enjoyed watching them in person or on television. She particularly loved Duke University basketball and all of her son's (Kevin) teams. 

Posey was somewhat of a tomboy growing up and was always out helping her father with ranch work. In later years, she did please her mother by needle pointing a pillow which her mother entered in the exhibits of the San Angelo Fat Stock Show and Rodeo and won a red ribbon. 

Posey and Keith were long time members of the Lake View Christian Church before moving to Abilene, Texas in 1969 at which time Keith became the Media Director for Region XIV Education Service Center. They were active members of the Brookhollow Christian Church in Abilene. When Keith took early retirement, they moved back to San Angelo and joined First Christian Church. Posey was a member of the Henson Sunday School Class, served as Elder, and Chair of the Elders. One of her most rewarding positions in the church was being on the Nurture Committee serving meals to the bereaved. Posey was a Stephen Minister and had a greeting card ministry that touched most every family in the church. 

Posey held a number of bookkeeping positions including West Texas Boys Ranch, M. D. Bryant, Bynum Myers (Abilene), R. J. Brown Estate (Abilene) and General Telephone Company. 

Posey is preceded in death by her parents, Leonard and Winnie Posey; sister, Mary Len Browning and husband, Eugene Browning, brother-in-law John Westbrook; her husband Everett Keith Long; daughter, Sandy Long Jenkins and best friend of 78 years, Jackie Sissel. She is survived by her daughter, Cheryl Long Pettit and husband Donald Pettit of Albemarle, NC; son, Edwin (Eddie) Keith Long of San Angelo; son, Robert Kevin Long and wife Renee Medford Long of Abilene; son-in-law, Norman Ray Jenkins of San Angelo; her grandchildren: Jason Ray Jenkins and wife Alexandra of Oak Park, Illinois; Erin Pettit Rumble and husband, Brett Rumble of Charlotte, NC; Neil Warren Pettit and wife Nicolette Hendrix Pettit of Asheville, NC; Everett Seth Long of Abilene, Texas; and great grandson Everett Julius Jenkins of Oak Park, Ill. She is survived by sisters Dorace Jane Westbrook of Morton, Texas; Jo Ann Sherword of Salem, Oregon. Posey is also survived by numerous nieces, nephews and a host of other friends. 

In lieu of flowers, the family requests that donations be made to the "Keith Long Memorial Scholarship" fund (P. O. Box 61532, San Angelo, Texas 76906).
Memorial Service
Saturday, May 22, 2021
10:00AM
First Christian Church Disiples of Christ 
29 N Oaks St. 
San Angelo, TX 76903
Write Your Tribute