Dates

Apr 11, 1943 May 12, 2021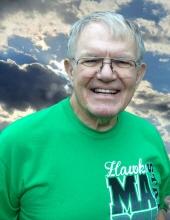 Donald Robert 'Bob' Holbrook, of San Angelo, went to be with his Lord & Savior on May 12, 2021 at the age of 78. He was born on April 11, 1943 in Rochester, New York, to Donald and Dorothy (Myers) Holbrook.  
He and is his sister, Judie, lived in many cities while their dad served in the Army finally settling in El Paso, Tx where he graduated from Bel Air High School in 1961. While attending Bel Air High School, he met the love of his life, Patricia 'Pat' Barry. They married on September 4, 1964, in El Paso. Bob joined the army and they moved to Germany, where their first child, Deborah Lynn, was born. He served his country proudly for 7 years. Upon returning to the states they settled in Tecumseh, Michigan, where their second child, Donald Robert Jr, was born.  
Bob started working for GTE in 1972 and 32 years later retired from Verizon. His jobs at the phone company included installation and repair, then cable splicer, and lastly working in the call center until retirement.  
He enjoyed riding his motorcycle and taking trips with his motorcycle buddies. He enjoyed all things technology related and was known as 'Gadget Guy'. He loved to putter outside taking care of the lawn and keeping things tidy in the yard. He loved to fly his flags and had several flag poles on the property. He loved to collect things such as: pocketknives, flashlights, and Beanie babies.  
Pat survives her husband of 56 years and lives in San Angelo, Tx, next door to their daughter's family, Mike and Debbie Martin and granddaughters Rylee and Chandler. Their son and daughter-in-law, Don and Celina Holbrook, reside in Canton, Tx, their sons: Cody and Samantha of Farmersville, Tx; Russell and Mason of Plano, Tx; Logan and Ryhannah of Canton, TX; Craig of Canton, Tx; and Colby of Terrell, Tx. Together they have 7 great-grandchildren: Abby, Hailey, Sophie, Ryley, Kodah, Sadie, and Emmylou. He was loved by and greatly loved his nieces Danelle Schmidt and Shannon Holcombe. He is also survived by his brother-in-law, John 'Mac' McMurray with whom he had many great times black Friday shopping. 
A visitation will be held at on Friday, May 21, 2021 from 5:00 to 7:00 PM at Harper Funeral Home. A Memorial service will be held on Saturday, May 22, 2021 at 11:00 AM at Glen Meadows Baptist Church.
Visitation
Friday, May 21, 2021
5:00PM-7:00PM
Harper Funeral Home 
2606 Southland Boulevard 
San Angelo, TX 76904
Funeral Service
Saturday, May 22, 2021
11:00AM
Glen Meadows Baptist Church 
6002 Knickerbocker Rd. 
San Angelo, TX 6904
Write Your Tribute