Dates

Apr 01, 1950 May 11, 2021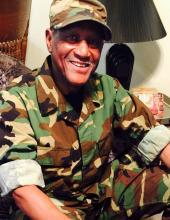 John L. Lewis age 71, of San Angelo, entered the gates of Heaven on May 11. 2021 at his home surrounded by his family.

Public viewing will be on Thursday, May 20, 2019 from 9:00 AM until 4:00 PM at Robert Massie Funeral Home. The funeral service will be held on Friday, May 21, 2021 at 11:00 AM in the Robert Massie Riverside Chapel. Burial will be at Belvedere Cemetery in San Angelo, Texas. Arrangements are by Robert Massie Funeral Home.

John was born in San Angelo on April 1, 1950 to Jesse Lewis and Hazel Wilson.
He was an outdoorsman who especially liked to fish. John also loved singing and dancing.  He would light up a room when he walked in it and had jokes for days.  He was loved by many.
He was preceded in death by his parents; and three brothers, James, Roosevelt, and Walter Lewis.

John is survived by his daughters, Lorinda Miller of Ft. Worth, Texas and Brittany Session of San Angelo, Texas; his sisters, Ernestine Bibbs, Charlesetta Jackson, Patricia Lewis, and Anita Lewis; his brothers, Charles Lewis, Jesse Lewis Jr., Richard Lewis, Frank Lewis, Nathaniel Lewis, Ronald Lewis, and C.L. Lewis; and by a grandson, Jaylon Miller.
To send flowers to the family or plant a tree in memory of John Lewis, please visit our floral store.
Write Your Tribute