Dates

May 15, 1937 May 11, 2021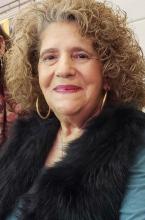 Enedina "Nina" Munoz age 83 of San Angelo entered the gates of heaven on May 11, 2021 in Dallas, Texas.

Public viewing will be om Tuesday, May 18, 2021 from 9:00 AM until 8:00 PM at Robert Massie Funeral Home. The rosary will be said on Tuesday, May 18, 2021 at 6:00 PM in the Robert Massie Riverside Chapel. The funeral mass will be on Wednesday, May 19, 2021 at 10:00 AM at St. Mary's Catholic Church. Celebrant will be Rev. Joey Faylona. Interment will follow at Fairmount Cemetery. Arrangements are by Robert Massie Funeral Home.

Nina was born May 15, 1937 in San Angelo to Ezequiel and Hermina Flores Martinez Sr.
She married Daniel Munoz Sr. in San Angelo in 1956 .

Nina was a multifaceted individual that worked in several capacities but the ones that she truly excelled at and loved were working as a buyer for Gibson's clothing line and as a jeweler at Nathan's Jewelry. She also worked at Eggemeyer for a time. After retirement she began her favorite pastime, caring for her grandchildren. 

Nina enjoyed cooking and those around her were able to enjoy her creations. She liked watching Spanish TV and also enjoyed spending time outdoors and listening to the calming sounds of the birds. 

She was preceded in death by her parents, her husband Daniel, and by a brother, Albert Martinez.

Nina is survived by her three children, Edna Ramirez and her husband Uvaldo, Dorothy Noriega and her husband Angel, and Danny Munoz Jr all of San Angelo; her brother Ezequiel Martiniez Jr of Omaha, Nebraska; her grandchildren Dr. Joshua Ramirez of Dallas and Miranda Munoz and her fiance Chris Little of San Angelo; and by a daughter-in-law Esther Munoz of Kerrville. 
PUBLIC VIEWING
Tuesday
May 18, 2021
9:00 AM to 8:00 PM
Robert Massie Riverside Chapel
402 Rio Concho Dr.
San Angelo, TX 76903
---
ROSARY
Tuesday
May 18, 2021
6:00 PM
Robert Massie Riverside Chapel
402 Rio Concho Dr.
San Angelo, TX 76903
---
MASS OF CHRISTIAN BURIAL
Wednesday
May 19, 2021
10:00 AM
St. Mary's Catholic Church
7 W. Ave. N
San Angelo, TX 76903
Write Your Tribute