Dates

Oct 18, 1973 May 08, 2021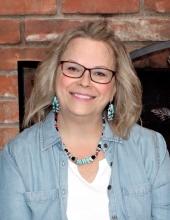 Donna Faye Jowers, 47, of San Angelo went to be with the Lord on Saturday, May 8, 2021 surrounded by her loving family. Donna was born October 18, 1973, in Colorado Springs, CO to Jesse and Irene Moore Heath. She grew up in Junction, Texas and graduated from Junction High School. Donna went on to attend Southwest Texas State University in San Marcos but transferred to Angelo State University and relocated to San Angelo. Donna left school to work and raise children but was immensely proud of the fact that she finally earned her bachelor's degree in Interdisciplinary Studies, graduating this May of 2021. She met and later married the love of her life, Bronson Jowers on January 1, 2000 and they shared 21 incredible years together and raised two sons, Braden and Bailey. She was a loving daughter, sister, wife, and mother who devoted her life to her family. Donna helped to run the family business Jowers Safe Trip, Inc., a pilot car company and was also the church secretary for Celebration Church for over five years. Her greatest passion was spending time with her family and attending her son's sporting events and dance competitions. In her spare time, she enjoyed shopping, watching suspenseful T.V. shows, playing with her cats, and sharing the love of the Lord. She was blessed to know where she was going, and we stand on that. We believe God worked straight through her to mold her family into what it is today. We pray that all who knew her were touched in a positive way and know that she loved them. She loved everybody regardless of who they were, what they have been through, or what they do or have done. We have prayed for her healing for a long time, God gave her visions of that healing, and we believe she is there right now soaking it all in. Donna had a strong faith in the Lord and was a member of Celebration Church. She loved her church family dearly. She also had a beautiful loving heart, which allowed her to be an incredible wife, mother, sister, and friend. Her great love and life will live on in our hearts forever and we will dearly miss her! Donna was preceded in death by her parents, Jesse and Irene Heath. She is survived by her husband, Bronson Jowers of San Angelo; her sons, Braden Jesse Jowers and his wife Lynden and Bailey Joseph Jowers, all of San Angelo; her mother-in-law, Jill Jowers, of San Angelo; her father-in-law, Bobby Jowers and his wife, Kathy, of Whitesboro, TX; her sisters, Julia Lee Swihart, of Marcellus, MI and Carla Evitt and her husband Wesley, of Broussard, LA; her brothers, Darwin Breland and his wife Karen, of Azle, TX, and Eddie Heath, of Arlington, VA; her sisters-in-law, Bobbie Kite and her husband Toby, of Lubbock, TX and Annie Jowers, of San Angelo; and numerous other family members and many special friends. The celebration of Donna's life will be 3:00 P.M., Tuesday, May 11, 2021 at Celebration Church with Pastor Brandon Clark officiating. 
In lieu of flowers, donations may be made to Celebration Church. 
Family and friends may share condolences and sign the online register book at www.harper-funeralhome.com.
Write Your Tribute