Dates

Aug 07, 1927 May 05, 2021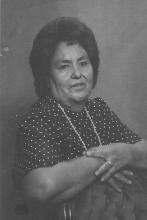 Rebecca A. Rodriguez, 93, passed away Wednesday, May 5, 2021, at her home surrounded by her family.

Public viewing will be from 9:00 AM until 8:00 PM on Monday, May 10, 2021 with the rosary being prayed at 6:00 PM at Robert Massie Riverside Chapel. Mass will be Tuesday, May 11, 2021 at 12:00 PM at St. Joseph Catholic Church with Father Francis Njoku, pastor of St. Margaret of Cortona Catholic Church in Big Lake, officiating. Burial will follow at Lawnhaven Memorial Gardens under the direction of Robert Massie Funeral Home.

Mrs. Rodriguez was born August 7, 1927 in Karnes City to Francisco and Carolina Aguirre. Rebecca has been a resident of San Angelo for 75 years. She married Patricio Rodriguez on December 3, 1945 in Rowena. He preceded her in death on August 8, 2013. Rebecca worked at Baptist Memorial and the Northside Laundromat. She was a member of St. Joseph Catholic Church. Rebecca loved crocheting, knitting, and sewing. In her younger years she loved to go bowling. The family would like to express there appreciation to Hospice of San Angelo, her 11 caregivers including Olga Lynn and Evelyn Osgood for there love and care the gave during this difficult time.

Survivors include five sons, Raul "Roy" Rodriguez and wife Sara of San Angelo, Mario Rodriguez and wife Janie of San Angelo, Artie Rodriguez and wife Toni of Odessa, Albert Rodriguez and wife Hope of Watauga, and Patricio Rodriguez, Jr. of Odessa; a daughter, Janie Estrada of Saginaw; a sister, Velia Moran of San Antonio; 21 grandchildren; 47 great grandchildren; 17 great great grandchildren; her special nephew, Robert Rodriguez, who the family would like to thank for all his help and attention he gave to her; and many other loving nieces and nephews. In addition to her husband, Rebecca was preceded in death by her parents, a daughter, Alice Seller and husband Joe; six brothers; and two sisters.
PUBLIC VIEWING
Monday
May 10, 2021
9:00 AM to 8:00 PM
Robert Massie Funeral Home
402 Rio Concho Dr.
San Angelo, TX 76903
---
ROSARY
Monday
May 10, 2021
6:00 PM
Robert Massie Riverside Chapel
402 Rio Concho Dr.
San Angelo, TX 76903
---
MASS
Tuesday
May 11, 2021
12:00 PM to 1:00 PM
St. Joseph Catholic Church
301 W. 17th. Street
San Angelo, TX 76903
Write Your Tribute