Dates

Aug 15, 1962 May 05, 2021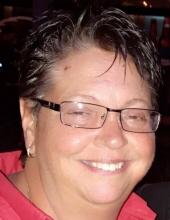 Karen "Kay Kay" Marie Young, 58, of San Angelo, Texas/ Bryan, Texas gained her angel wings and joined her Heavenly Father on May 5, 2021. She was born on August 15, 1962 in Port Lavaca, Texas. Karen was always the life of the party and was known for her contagious laugh and beautiful smile. She was full of joy and brightened the lives of everyone she crossed paths with. Karen never met a stranger! She was happiest when surrounded by family and friends and had a special gift with young children and babies. Caring for others brought her great joy in life. Karen graduated from Lake View High School and attended Angelo State University where she earned a Bachelor of Science degree while being a successful entrepreneur and a devoted single mother. Her son, Sean Michael, was her greatest joy in life. She was later gifted three more blessings (her grandchildren) which became her driving force and motivation in life. She was a very adventurous person and traveled many places, but the one place she always felt peace and comfort was at the beach. 

Karen's soul will be joining her beloved mother Albina 'Pat' Sprencel Young, dad Donald Young, brother Neal and sister Cheryl Young, and nephew Jason Young, where they can celebrate together while watching over their loved ones. Karen leaves behind her son, Sean Young and fiancé, Kristen Kothmann of San Angelo, Texas and three grandkids Addysan, Lane and Emme Young of Pryor, Oklahoma. She also leaves behind a sister Linda and her husband, Thomas Bayer of Bryan, Texas; brother Jay Young and his wife Paula of Tow, Texas; brother James Young and his wife Michelle of McKinney, Texas and numerous other family members and friends that she considered family. 

Karen would not want us to be sad, but instead celebrate her life and the precious time we had together. Carry on her memory with stories, love, and laughter. She is now our Guardian Angel. 

Visitation service will be held from 2:00pm to 4:00pm, Monday, May 10, 2021 at Harper Funeral Home at 2606 Southland Blvd. San Angelo, Texas 76904. Those who wish to remember Karen in a special way may make gifts in her memory to the American Diabetes Association of West Texas.
Visitation
Monday, May 10, 2021
2:00PM-4:00PM
Harper Funeral Home 
2606 Southland Boulevard 
San Angelo, TX 76904
Write Your Tribute