Dates

May 14, 1957 May 05, 2021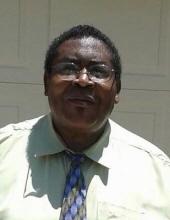 Jeffery "JJ" Martin, 63, passed away peacefully on May 5, 2021. He was born on May 14,1957 in San Angelo, Texas. 

Jeffery is survived by his mother, JoAnn Martin, his son, Ross Allen Spear-Martin, brothers, Michael Polk, Louis Martin Jr., Gerald Martin, and sister Angela Martin-Anderson; his former wife, Naomi Spear-Martin; and a host of nieces and nephews. He is preceded in death by his father, Louis Martin Sr. 

JJ loved fishing and hanging out with his family and friends. He will truly be missed. 

A memorial service will be Saturday May 29, 2021 at 11:00 at New Birth Full Gospel Assembly 3920 Bowie St. San Angelo, Tx. 76903.
Memorial Service
Saturday, May 29, 2021
11:00AM
New Birth Full Gospel Assembly  
3920 Bowie Street 
San Angelo, TX 76903
Write Your Tribute