Dates

Aug 25, 1948 May 04, 2021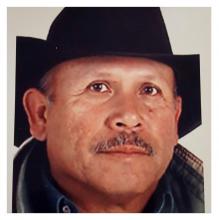 Richard Segura, 72, passed away Tuesday, May 4, 2021, in San Angelo at Shannon Medical Center.

Public viewing will be from 1:00 PM until 8:00 PM Sunday, May 9, 2021, with the Rosary beginning at 6:00 PM at Robert Massie Riverside Chapel. Mass will be 10:00 AM Monday, May 10, 2021, at St. Mary's Catholic Church with Father Joey Faylona, officiating.

Mr. Segura was born August 25, 1948 in San Angelo where he has been a lifelong resident. Richard was a 1967 graduate of Central High School, and he attended Angelo State University. Richard was a machine operator for Santa Fe Railroad retiring in 2005 as a safety supervisor. He was a catholic. Richard was an avid pool player. He loved spending time with his family and friends.

Survivors include three brothers, Jose Louis Segura and wife Annette, Eduardo Segura, and Freddy Segura and wife Crystal; four sisters, Anna Sanders, Connie Segura and husband Michael Hufstutler, Maria Elena Tijerina and husband Orlando; and Raquel Rodriguez and husband Pete; many nieces, nephews and cousins. Richard was preceded in death by his parents, Serapio and Ramona Segura; and two brothers, Armando "Mundy" Segura, and Edwardo Segura.
PUBLIC VIEWING
Sunday
May 9, 2021
1:00 PM to 8:00 PM
Robert Massie Riverside Chapel
402 Rio Concho Dr.
San Angelo, TX 76903
---
ROSARY
Sunday
May 9, 2021
6:00 PM
Robert Massie Riverside Chapel
402 Rio Concho Dr.
San Angelo, TX 76903
MASS
Monday
May 10, 2021
10:00 AM to 11:00 AM
St. Mary's Catholic Church
7 W. Ave. N
San Angelo, TX 76903
Write Your Tribute