Dates

Feb 15, 1946 Apr 22, 2021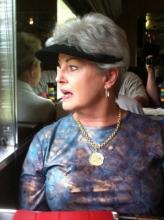 Donna Jean Wyatt Wiley joined her Lord and Savior, Jesus Christ, in Heaven, peacefully at home on April 22, 2021, at the age of 75. She was born on February 15, 1946 in San Angelo, TX to Oscar and Bobbie Wyatt. She grew up on a dairy farm in Harriett, Texas, and graduated from Miles High School in 1964.
She was beautiful in person and spirit; a generous and tender soul, and she loved her Lord Jesus. She made our lives richer for the journey, and left us with precious, cherished memories.
She married Rick Wiley on October 8, 1981, and in their almost 40 years of marriage they were fortunate to have lived and traveled across America and the world together.
She is survived by her husband, Rick, of Coppell, TX, and children, Michael Ray Carter (Cinnamon) of Junction, TX, Lisa Ann Owen (Gary) of San Antonio, TX, and Larry Frank Wiley (Rachel) of Corinth, TX. She greatly loved her grandchildren, Samantha Armstrong (Heath) of San Angelo, TX, Lane Carter (Sheriden) of Little Elm, TX, Luke Carter (Emily) of Gunter, TX, Logan Sanders of Jourdanton, TX, Chloe Sanders of San Antonio, TX, and Taylor Wiley of Corinth, TX. She was blessed with four great-grandchildren, Seyit Morales, Madelyn Carter, Wyatt Armstrong, and Zoe Love Carter. She is also survived by her sisters, Nancy Davis and Debbie Wyatt of Wall, TX. She was predeceased by her parents, and by her beloved brother, Miles Allen Wyatt.
She leaves her beloved Bunco friends, Debbie Harden, Susan Mix, Cindy Brewer, Laura Sigmund, and the rest of that loud crowd, too many to name. Thank you for the joy and love you all gave her!
We send our special gratitude to everyone at UT Southwestern Hospital; Encompass Hospice, especially Joy and Palma; and our special angel and friend, Gloria Herrera.
Visitation will be Monday, April 26 from 5 to 7 PM at Harper Funeral Home. The funeral service will be Tuesday, April 27 at 10 AM at Harper Funeral Home, with Pastor Mark Riggins officiating. Family burial will follow at Harriet Cemetery. Memorials may be made to the Lewy Body Dementia Association, the Alzheimer's Association, or the charity of your choice.
John 11:25-26 Jesus said to her, "I am the resurrection and the life. Whoever believes in me, though he die, yet shall he live, and everyone who lives and believes in me shall never die. Do you believe this?"
Write Your Tribute