Dates

Oct 06, 1931 Apr 13, 2021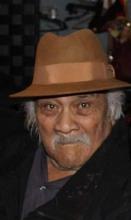 Bruno R. Velasquez 89, "90" (because he counts being in the womb) passed away Tuesday, April 13, 2021, in San Angelo, Texas.

Public viewing will be from 9:00 AM until 8:00 PM with the Prayer Service Being at 6:00 PM Friday, April 16, 2021, at Robert Massie Riverside Chapel. Funeral Services will be 10:00 AM Saturday, April 17, 2021, at Robert Massie Riverside Chapel, burial following at Belvedere Memorial Park Cemetery under the direction of Robert Massie Funeral Home. 

Mr. Velasquez was born October 6, 1931 to Manuel Velasquez and Juanita Velasquez in Eldorado. He has been a resident is San Angelo since 1946. Don Bruno was a man of many talents no job was to big or small for him to conquer. He was a very hard-working man. Bruno was always willing to lend a helping hand. He attended Church of Christ; religion was very important to him he would always share the word of God. Bruno loved music which included him singing, playing the guitar and accordion. He loved spending time with his family and adored his grandkids. His doors where always open to everyone without judgement. Bruno loved telling jokes and stories. His grandkids favorite memories were going to Ben Ficklin swimming. He's going to be dearly missed by his family and friends. 

Survivors include three sons, Freddy Romangano, Bruno Velasquez and wife Julia, and Bruno Manuel Velasquez; four daughters, Cynthia Velasquez, Rita Velasquez and Viola Abalos, Janet Cantu and husband Tony, and Gloria Marie Velasquez; two brothers, Manuel Velasquez, and Santos Velasquez; 13 grandchildren, Alex Romangano, Veronica Hernandez and husband Esrael, Jr., Bruno R. Velasquez and wife April, Natalie Bautista, Juan Antonio and Kristi Bautista, Jessica Rodriguez and husband Gilbert, Teresa Plumley and husband Keby, Raul Lombrana and wife Crystal, Victor Lombrana and wife Olivia, Victoria Lombrana, Delia Arredondo and husband Victor, Daisy Lopez and husband Danny, and Mr. and Mrs. Cezario Garcia; 50 great grandchildren; and two great-great grandchildren. Bruno was preceded in death by his parents, Manuel and Juanita Velasquez; two brothers, Jose Velasquez, and Estevan Velasquez; 2 sisters, Olivia Velasquez Garza, and Felicita Velasquez; a granddaughter, Monica Segura; and a daughter-in-law, Rosalinda Velasquez.

John 10:27-29:
My sheep listen to my voice; I know them, and they follow me. I give them eternal life, and they shall never perish; no one will snatch them out of my hand. My Father, who has given them to me, is greater than all; no one can snatch them out of my Father's hand.
To send flowers to the family or plant a tree in memory of Bruno A Velasquez, please visit our floral store.
PUBLIC VIEWING
Friday
April 16, 2021
9:00 AM to 8:00 PM
Robert Massie Riverside Chapel
402 Rio Concho Dr.
San Angelo, TX 76903
---
PRAYER SERVICE
Friday
April 16, 2021
6:00 PM
Robert Massie Riverside Chapel
402 Rio Concho Dr.
San Angelo, TX 76903
---
FUNERAL SERVICE
Saturday
April 17, 2021
10:00 AM
Robert Massie Riverside Chapel
402 Rio Concho Dr.
San Angelo, TX 76903
Write Your Tribute