Dates

Sep 04, 1926 Apr 06, 2021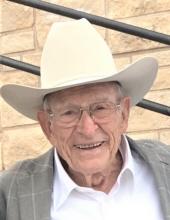 Jesse Clay "J.C." Ward, 94, of New Braunfels went to be with the Lord on Tuesday, April 6, 2021 after a sudden illness. 
A family graveside service will be held at 11:00 A.M., on Friday, April 9, 2021 at Lawnhaven Memorial Gardens in San Angelo. 
He was born September 4, 1926, in McMullin, MO. J.C. entered the service of the United States Navy during WWII, two months after his 18th birthday. During his service he received The American Campaign Medal, the Asiatic Pacific Campaign Medal, and the WWII Victory Medal. After his discharge from the service, he met his loving wife of 53 years Margaret Helen Lynn, who preceded him in death in 2006. J.C. and Margaret had five daughters together. J.C was also preceded in death by his parents, two brothers and two sisters. He was a loving compassionate Christian man who put his faith and family above everything else. He worked as a sales representative for Macklanburg-Duncan Company for several years. J.C. enjoyed his garden, golf, angel biscuits and gravy, FOX News, a good laugh, German Chocolate Cake, pecan pie, a walk around the block, opening the door for his sweetheart, holding hands, praying at meals, nurturing others, and deep-sea fishing. 
In May 2008, J.C. was also blessed with another loving wife, Marie Helsley. They married October 8, 2014 in San Angelo. They were members of the San Angelo Dance Club, Western Dance Club, and in New Braunfels the Carousel Dance Club. J.C. and Marie enjoyed driving to Western Swing Festivals. For three years they traveled to the Cowboy Symposium at Ruidoso, New Mexico where Marie's son Richard Helsley was performing with Billy Mata Texas Tradition Band. J.C. is survived by his wife, Marie Helsley, of New Braunfels, and her children Sharon Williams and husband Steve, of Ruidoso, N.M., Richard Helsley and wife Karen, of New Braunfels; and Marie's grandchildren, Johnny Williams, Regan Helsley and Savannah Helsley; his five daughters, Diana Baker and her husband Jerry, of San Angelo Linda Reichenau and husband Charlie, of Mason, Pamela Michell, of San Angelo, Amy Eckert of San Angelo and Angie Marschall Mason and husband Bart, of San Angelo. His 11 Grandchildren, Clint Reichenau and wife Brittany, Brad Baker and wife Paula, Bryan Baker and wife Keri, Joy Higgins and husband Mike, Jennifer Calderon, Jana Michell, Leigh Anna Baker and husband Ben, Amber Adams and husband Jack, Elise Studer and husband Preston, Sterling Marschall and wife Madison, and Pierce Marschall. J.C. was also loved by 16 great grandchildren and numerous nieces and nephews. 
Pallbearers for the service will be Clint Reichenau, Bryan Baker, Sterling Marschall, Pierce Marschall, Grant Eubank and Benn Drew. Honorary Pallbearers for the service will be Brad Baker, Jackson Baker, Gage Reichenau, Ian Reichenau and Noah Drew. 
In 2019, J.C. was honored to be escorted as a WWII Veteran to Washington, D.C. Honor Flight of San Antonio. Memorials may be donated in honor of J.C. Ward to [email protected]. 
Family and friends may share condolences and sign the online register book at 
www.harper-funeralhome.com. 
Graveside
Friday, April 09, 2021
11:00AM
Lawnhaven Memorial Gardens
4989 FM Highway 1223 
San Angelo, TX 76905
Final Resting Place
Lawnhaven Memorial Gardens 
4989 FM Highway 1223 
San Angelo, TX 76905
Write Your Tribute