Dates

Mar 16, 1926 Apr 02, 2021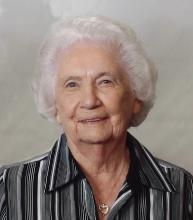 LuElla Baker Stanley, age 95 of San Angelo, entered the gates of heaven on April 2, 2021.

Public viewing will be on Monday, April 7 from 9:00 AM until 8:00 PM
The family will receive guests at the funeral home on Monday from 5:00 pm until 7:00 PM. A graveside service will be held at 10:00 AM on Tuesday, April 6th at the Miles Cemetery in Miles, Texas. Mr. Frank Berthold will officiate. 

LuElla was born on March 16, 1926 in Olney, Texas to Henry and Ruth Hoots Baker. She married Robert Stanley on January 24, 1944. The couple ran their own business, Stanley Boot Shop for many years before retiring. She was a lifetime member of the Disabled American Veteran's Auxiliary and the Texas Veterans for Veterans Association, in which she was very active. Lu Ella had been a member of Chadbourne North Church of Christ since 1959. She always found joy when visiting with friends, riding motorcycles with her husband, Robert and reading poetry. 

She was preceded in death by her husband, Robert.

LuElla is survived by her children, Roy Lee Stanley and wife Joellen, Betty Lu Stanley White and her husband Bob, and Jimmy James Stanley; a sister, Ida Baugh; grandchildren Joey James Stanley, Lu Ann Stanley Reding; step-grandchildren, Becky Boring and Chris White; eleven great grandchildren; and two great-great grandchildren.
To send flowers to the family or plant a tree in memory of LuElla (Baker) Stanley, please visit our floral store.
PUBLIC VIEWING
Monday
April 5, 2021
8:00 AM to 8:00 PM
Robert Massie Funeral Home
402 Rio Concho Dr.
San Angelo, TX 76903
GRAVESIDE SERVICE
Tuesday
April 6, 2021
10:00 AM
Miles Cemetery
Hwy 277
Miles, TX 76861
Write Your Tribute