Dates

Feb 10, 1929 Mar 30, 2021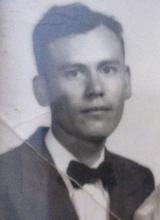 Horacio Garcia, Sr., 92, passed away Tuesday, March 30, 2021, at his home surrounded by family.

Public viewing will be from 9:00 AM until 8:00 PM with the Rosary being prayed at 6:00 PM Friday, April 2, 2021 at Robert Massie Riverside Chapel. Liturgy of the Word will be at 10:00 AM Saturday, April 3, 2021, at Robert Massie Riverside Chapel. Burial will follow at Miles Cemetery under the direction of Robert Massie Funeral Home.

Mr. Garcia was born February 10, 1929 in Kenedy to Martin and Mariapaz Garcia. Horacio was a resident of Grape Creek for the last five years moving from Sanora. Horacio was a lifelong San Angelo resident. He was a former employee of San Angelo Standard Times, working in the maintenance department. Horacio worked for Shannon Medical Center, working in the janitorial deportment, retiring in 1997. He was a member of St. Joseph Catholic Church. Horacio loved to go to What a Burger, drink coffee, go on walks, travel, and loved his Spanish Soap Operas.

Survivors include a son, Horacio Garcia, Jr. and wife Jane of Weatherford; three daughters, Mary Jean Romo of San Angelo, Juanita Melendez and boyfriend Jesus Romo of Eldorado, and Minnie Elizando San Angelo; 14 grandchildren, including her special granddaughter, who cared for him, Jessica Solis and Salvador of Grape Creek; 24 great grandchildren, including her special great grandchildren, Emma Solis and James Solis both of Grape Creek. Horacio was preceded in death by a son, Martin Garcia.
To send flowers to the family or plant a tree in memory of Horacio Garcia, please visit our floral store.
ROSARY
Friday
April 2, 2021
6:00 PM
Robert Massie Riverside Chapel
402 Rio Concho Dr.
San Angelo, TX 76903
FUNERAL SERVICE
Saturday
April 3, 2021
10:00 AM
Robert Massie Riverside Chapel
402 Rio Concho Dr.
San Angelo, TX 76903
Write Your Tribute