Dates

Oct 23, 1928 Jan 22, 2021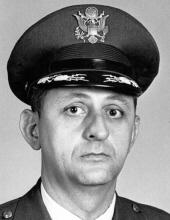 Lt Col (ret) Steve G. Tefas, 92, of San Angelo passed away Friday, January 22, 2021. 

Visitation at 6pm on Friday, January 29 at Harper Funeral Home chapel with Prayer service at 7pm. Following a private funeral service at Assumption Orthodox Church, officiated by Fr. Mark Lichtenstein, a public graveside service with military honors will be conducted at 11:30am on Saturday, January 30 at Fairmount Cemetery. 

Steve was born on October 23, 1928 in Monroe, LA to parents who emigrated from Bitola, Macedonian. He and his parents were always proud to call themselves citizens of America. He graduated from LSU in 1949 and was a squadron commander in the ROTC. He proudly served his country for 25 years in the US Air Force. Barely missing being called to serve in World War II, he served with distinction in Vietnam, earning a Bronze Star. Steve's military career enabled him to see much of the world, including being stationed in Scotland where he was able to watch Ben Hogan win his one and only British Open golf title in 1953. 

He married Frances Manitzas on September 2, 1956 and they were blessed with over 62 years of happy marriage. They were stationed for 6 years in Germany and thoroughly enjoyed their travels together throughout Europe. Upon returning from Europe, Steve earned his MBA from Indiana University. 

After retiring from the military in 1973, Steve and his family moved to San Angelo. He became involved with local real estate, and was a commercial broker for over 30 years. He also taught several business courses at Angelo State University. 

Steve was actively involved with many local service organizations including the San Angelo Association of Realtors, the local Orthodox Church, the San Angelo Kiwanis Club, the Historic Preservation Commission, and the Retired Officers Association.  

Steve was predeceased by and now reunited with his wife and best friend of over 62 years, Frances; brother Bill, and brothers-in-law Frank Manitzas and George Ballis. He is survived by his sister Olga Ballis; sister-in-law, Mary Ellen Manitzas, and children and extended family of Stephanie and Ted Snedden, Steve and Rebecca Tefas, Pamela Uhr and Stan McElroy, Debbie and Phillip Trueman, Steve Manitzas; Thomas and Marsha Manitzas, Thea and Tommy Choate, Bill Ballis, and Hillary McDowell. 

In lieu of flowers, the family requests memorials be made to Assumption Orthodox Church.
Visitation
Friday, January 29, 2021
6:00PM - 7:00PM
Harper Funeral Home
2606 Southland Boulevard 
San Angelo, TX 76904
Prayer Service
Friday, January 29, 2021
7:00PM
Harper Funeral Home
2606 Southland Boulevard 
San Angelo, TX 76904
Graveside
Saturday, January 30, 2021
11:30AM
Fairmount Cemetery
1120 W. Ave. N 
San Angelo, TX 76901
Write Your Tribute