Dates

May 22, 1944 Jan 22, 2021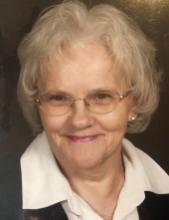 Colleen Ann LaBaume, 76, of San Angelo, Texas gained her angel wings in heaven on January 22nd, 2021, She was surrounded by her family as she greeted her heavenly father. 

Her life begin on May 22nd, 1944 in Williams, Iowa. She was the youngest of 4 children born to Agnes Katherine Carstens and Odin Thor Nerland. She proudly earned her Masters Degree in Education from Angelo State University and worked as a math educator in both Iowa and Texas and as a Financial RPTG Specialist A/P for GTE, retiring after 20 years. 

Colleen enjoyed and loved her family as well as crafting, horses, good mysteries, old movies, musicals and John Wayne. She was a member of Sierra Vista United Methodist church, where she played handbells and sang in the choir. Colleen was an avid bowler and enjoyed life every day. 

She is survived by, her children; Kim Hancock and husband John of Georgetown, Texas, Kristal Kypfer and husband Byron and Clint Labaume of San Angelo, Texas, her grandchildren, Zane, Cole and McKenna Hancock of Georgetown, Texas, Blake and wife Haylee, Kassidy and Logan Kypfer of San Angelo, Texas and a great grandchild, Miles Hancock also of Georgetown, Texas as well and many nieces and nephews. 

She was greeted with open arms in heaven by her mother Agnes Nerland, brother Russell Nerland and two sisters Audrey Ciochon and Ruth Garcia. 

Our family will be having a small get together as she requested to celebrate her life. 

"Life is not measured by the breaths we take but by the moments that take our Breath Away" 
She loved this quote and lived her life accordingly, with joy, kindness, spontaneity, and love. 
She will be forever missed. Colleen was an amazing mother, grandmother and friend to many. 

A special thank you to Dr. Peter Chang and Hospice of San Angelo for making her journey to heaven easier. 

Thank you all for your love, prayers and support you provided us all during this difficult time.
Write Your Tribute