Dates

Feb 04, 1975 Jan 19, 2021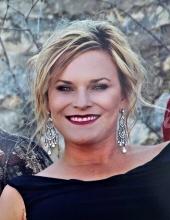 Jennifer gained her much deserved golden angel wings. She passed from this earthly life to her heavenly life on January 19, 2021. Jennifer was born February 4, 1975 in San Angelo, Texas to Eugene and Kay Kotrla Cotter. 
She graduated from Wall High School and attended college in San Angelo and Lubbock, TX. She had an extensive career with the Robert Poulson Allstate Insurance Agency, worked in medical sales for over 15 years, and recently retired from Stryker. She volunteered for Meals on Wheels of America and enjoyed spending much of her time at the baseball fields cheering on her boys. 
There will be a Celebration of Life Thursday, January 21, 2021 at 6pm at Parkway Church in Victoria, TX. Visitation will be Friday, January 22, 2021 from 6-8 at Harper Funeral Home in San Angelo, TX. Service will be Saturday, January 23, 2021 at 11am at Wall Brethren Church with the Pastor Tommy Tallas, and Pastor Colby Friday officiating. 
She was preceded in death by her father, Eugene Kotrla, grandparents, Oscar & Lillian Kotrla and Jay Whittley, uncles, Raymond Kotrla and Bob Cason, and God-Mother Darlene Kotrla Cason. 
She is survived by her husband, Nathan Mitchell, and sons Hagan Hartman and Drayton Mitchell; mother and stepfather, Kay and Charles Cotter; sister Alicia Kotrla McGuire and husband Brandon McGuire and their son Jaxon and daughter Madison. Jennifer was a mother to her beloved pets that she loved and cherished throughout her years. Khalib, Khalis, Zoe, Wrigley, Remie, Berkley and grand-dog, Ace were so graced to have had her to love them throughout their earthly years. 
We will all miss our precious moments with her that were always filled with love, laughter, and good music. Though we will feel lost without her words of encouragement and advice, we are comforted knowing we have all gained another Guardian Angel that will keep us in line and protect us always. 
Jennifer made the selfless decision to be an organ donor and she gave the gift of life to so many others. Just like she did here on earth, she will continue to help others for many years and generations to come. She was surrounded by her family as numerous nurses and surgeons escorted her to the operating room on her Donor Walk of Life. As her body got further and further away from her family, they felt her presence became closer and closer. She faded out of sight as so many pieces of her faded into the lives of her recipients and their families. She has changed so many lives, but the best part has just begun. 
Donations can be made to Meals for the Elderly or Donate Life Texas. 
Family and friends may share condolences at www.harper-funeralhome.com.
Visitation
Friday, January 22, 2021
6:00PM - 8:00PM
Harper Funeral Home
2606 Southland Boulevard 
San Angelo, TX 76904
Funeral Service
Saturday, January 23, 2021
11:00AM
Wall Brethren Church
7921 Texas Loop 570 
Wall, TX 76957
Write Your Tribute