Dates

Jun 12, 1928 Jan 16, 2021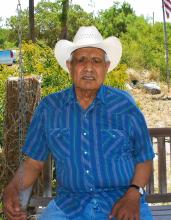 Ramon Flores Morales, 92, a long-time resident of Knickerbocker, Texas, passed away on January 16, 2021. He was born on June 12, 1928, in Miles, Texas, to the late Romulo and Alvina Flores Morales. In August 1950, he married the love of his life, Julia Torres Castaneda, at Sacred Heart Cathedral in San Angelo, Texas and lovingly gained an immediate family. They enjoyed 56 years of marriage until her death in 2007.

Ramon was a hardworking man, devoted husband and father. He loved the outdoors and worked on several ranches throughout West Texas. Eventually, Ramon and Julia moved to San Antonio, Texas, where he retired from Southwest Research Institute in San Antonio, Texas with more than 26 years of service. After retirement, Ramon and Julia moved back to Knickerbocker to enjoy life and be with extended family members. He was a lifetime member of Immaculate Conception Church in Knickerbocker, Texas. While in Knickerbocker, he continued to enjoy the country life and hosting family gatherings and cookouts. Ramon could always be counted on to cook his "cowboy biscuits" which everyone enjoyed eating. 


He was preceded in death by his brother, Reynaldo F. Morales, and sister Eva Morales Torres. He is survived by his son, Ricardo Castaneda and wife, Liz; daughters, Helen Garcia and Irene Anama and husband, Arthur; 9 grandchildren, numerous great-grandchildren and several great-great-grandchildren; brother Raul F. Morales and sisters Rosaria Duke and Raquel Diaz. 

Rosary will be at 6 p.m. Sunday, January 24, 2021, at Robert Massie Funeral Home, San Angelo, Texas. Mass of Christian Burial will be celebrated at 11 a.m. Monday, January 25, 2021, at the Immaculate Conception Church in Knickerbocker, Texas, with the Rev. Tony Franco presiding. Burial will follow at the Knickerbocker Catholic Cemetery. 


Don't grieve for me, for now I'm free. I'm following the path God laid for me. I took his hand when I heard his call, I turned my back and left it all. If my parting has left a void; Then fill it with remembered joy. A friendship shared, a laugh, a kiss; Ah yes, these things, I too, will miss. My life's been full, I savored much; Good friends, good times, a loved one's touch. Perhaps my time seemed all too brief; don't lengthen it now with undue grief. Lift up your hearts and share with me; God wanted me now, He set me free.

 
To send flowers to the family or plant a tree in memory of Ramon Morales, please visit our floral store.
MASS OF CHRISTIAN BURIAL
Monday
January 25, 2021
11:00 AM
Immaculate Conception Catholic Mission
12142 W Torres Road
Knickerbocker, TX 76939
Write Your Tribute