Dates

Jun 20, 1957 Jan 11, 2021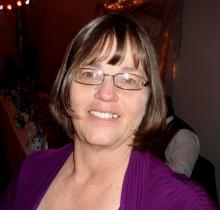 Sheryl Hamrick Daun, 63, passed away Monday, January 11, 2021, in San Angelo.

There will be no services at this time. Cremation and arrangements are under the direction of Robert Massie Funeral Home.

She was born June 20, 1957 in Sweetwater. Sheryl grew up in Colorado City. She married Thomas Daun on October 22, 1977 in Loraine. They moved to Pahrump, Nevada where she raised her family and cared for her many nieces and nephews. Sheryl and Tom moved back to Texas, where they have a small ranch raising goats in Christoval. Sheryl enjoyed relaxing with her family at the river and playing games.

She lives on in the hearts of many: her mother, Darlene Hamrick; her beloved husband, Thomas Daun; her children, Gregory, Matthew, Margaret, and Karen; her grandchildren, Preston, Payton, Parker, Madison, Zachary, Gunnar, Alexander, Oliver, and Morgan; her siblings, Steve, Stacy, Brent, and Brian.
To send flowers to the family or plant a tree in memory of Sheryl Hamrick Daun, please visit our floral store.
Write Your Tribute