Dates

Oct 23, 1969 Jan 10, 2021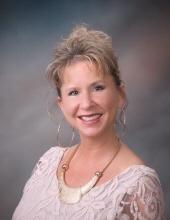 Marie Claire Fischer Allison passed away on January 10, 2021. She was born on October 23, 1969 in West Palm Beach, Florida. Claire graduated from McKinney High School in McKinney, Texas in 1987 before pursuing a career with State Farm Insurance. The bulk of Claire's adult life was spent as a stay-at-home Mom. She loved this role from taking them to golf tournaments, piano recitals, scouting events, and everything in between, her children were the apples of her eye. Claire loved all things cooking, baking, and hosting the most well-decorated holiday parties. Claire was recognized in the Concho Valley as a Realtor for Scott Allison Real Estate and past Director for the San Angelo Association of Realtors Board of Directors as well as the previous owner of Cookies by Design. 
She is survived by her loving husband Scott Allison of San Angelo and children Weston Crabtree and wife Sierra, Ethan Drain and wife Caroline, and Grace Drain; grandsons David Schneider and Archer Crabtree all of San Angelo. Also father Alfred "Buzz" Fischer and life companion Alice Flood, sister Juliet Fischer Schulein and husband Doug, and brother Scott Fischer. She was preceded in death by her sister, Camille Fischer. 
A service will be held on Friday morning, January 15, 2021 at 11 A.M. at Glen Meadows Baptist Church in San Angelo.
Memorial Service
Friday, January 15, 2021
11:00AM - 12:30PM
Glen Meadows Baptist Church
6002 Knickerbocker Rd. 
San Angelo, TX 6904
Write Your Tribute