Dates

Nov 30, 1923 Dec 27, 2020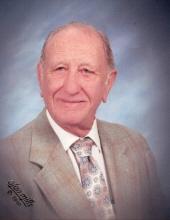 Red Miller passed away to join the Lord and his loving wife Mary Doyle on Sunday December 27, 2020 at the age of 97. 

He was born on November 30, 1923 in Bangs, Texas to P.D. And Ida Mae Miller. He accepted The Lord as his savior at the Church of Christ in Bangs, Texas at the age of 11. The youngest of four, Red spent his childhood in the Bangs community until called to duty at the onset of World War II. As part of what has become known as the Greatest Generation, he served proudly in the 740 Tank Battalion, Headquarters Company as a Tank Commander in the US Army during the German campaign.  

Upon the end of the war Red returned to Bangs and soon met the love of his life, Mary Doyle Whatley. They were married on July 3, 1948 in Brownwood, Texas and spent the next 72 years together before her death earlier this year.  

Red started his career in the communications business in Brownwood with Southwestern States Telephone Company. Upon the merge of Southwestern States and GTE, the family moved to San Angelo where he worked in the accounting department and later with GTE Data Services. His service to the telephone industry lasted 37 years until his retirement. 

Red had a love for the Lord, his family and fishing and hunting. He and Mary spent over 40 years enjoying THE PLACE, located on the conclaves of the Colorado River and San Saba River. 

He was proceeded in death by his parents, his loving in laws, Doyle and JoEtta Whatley, sister Eleanor Skies, brothers D.L. and Roy Miller and several nephews. 

Left to cherish his memory are, daughter Annetta Gray (Homer), son Preston "P.D." Miller (Sharon), grandchildren Justin Miller and Melody Kovar (Casey), beloved great grandchildren Colton, Caroline and Carlee Kovar and beloved nice Patsy Jean Spivey.  

Red was a passionate, patriotic man and loved deeply. In the words of his son-in-law, Homer, GOODBYE OLD SOLDIER. 

Special Thanks and eternal love to Red and May's caregiver who became part of the 
family Toni Gonzales, as well as Kindred Hospice. 

Private graveside services will be held at Bangs Cemetery under the direction of Harper Funeral Home, conducted by the Reverend Michael Little.  

Memorials may be sent to the charity of the donor's choice.
Write Your Tribute