Dates

Sep 25, 1995 Dec 23, 2020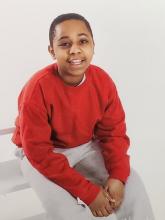 Travian LaRon Farmer age 25 of San Angelo entered Heaven on December 23, 2020 surrounded by his family.

Public viewing will be on Wednesday, December 30, 2020 from 9:00 AM until 8:00 PM at Robert Massie Funeral Home

Funeral service will be on Thursday, December 31th at 10:00 AM at Robert Massie Funeral Home. Burial will be at Lawnhaven Memorial Gardens. Arrangements are by Robert Massie Funeral Home. 

Travian was born on September 25, 1995 to Angela Farmer and Travis Gray at Shannon Hospital. From the time he was born he had a smile that was contagious and a most humble spirit. Early in life we learned he had autism, but that never stopped him from being who he was, which was a person who loved his family, friends, and the Lord. he dedicated his life to Christ at an early age and was baptized by Rev. McClendon and he kept the faith until his very last moment on this earth. He graduated from Central High School in 2015 and never stopped dreaming of the man he would become one day. In his pastime Travian loved to sing, watch his favorite movies, listen to all genres of music, travel to Mississippi and be around his loving family.

Travian leaves his most precious memories to his incredibly special parents, Larry and Christene Hardin, who made their commitment to taking care of him, the center of their lives. His parents, Travis (Keecia) Gray, Angela (Dexter) Simmons; three brothers, Kristopher (Ja'nee) Farmer, Alvin Benford Jr, and Kingston Gray; one sister Haley Gray: his paternal grandparents, Henry and Sandra Gray and their children. 
The family would like to thank the caregivers, Rescare, Hospice and MHMR for their professional services.
FUNERAL SERVICE
Thursday
December 31, 2020
10:00 AM
Robert Massie Riverside Chapel
402 Rio Concho Dr.
San Angelo, TX 76903
Write Your Tribute