Dates

Aug 28, 1962 Dec 23, 2020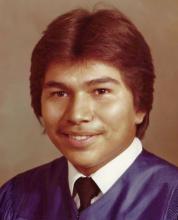 Mr. Randy Ortiz, 58, of Lubbock, TX, formerly of San Angelo, passed away on December 23, 2020 in Lubbock, TX.
Survivors include his mother, Connie G Ortiz of San Angelo, his sons, Randy Ortiz Jr., Michael Ortiz and Jaime Ortiz.  He is also survived by his sister, Marla Tovar and three brothers, Steve Ortiz (Sharon), Ernest Ortiz (Minerva) and Daniel Ortiz (Diana) and ten grandchildren.  The family would like to give special thanks to Coyote Vending, Lubbock, TX., Eric, Frank and Crew and Sara, Barbara Wagnor and Lydia Moya.
VIEWING
Tuesday
December 29, 2020
4:00 PM to 8:00 PM
Gutierrez Funeral Chapels North
1002 North Oaks
San Angelo, TX 76903
PRAYER SERVICE
Tuesday
December 29, 2020
6:00 PM
Gutierrez Funeral Chapels North
1002 North Oaks
San Angelo, TX 76903
Write Your Tribute