Dates

Jan 20, 1964 Dec 19, 2020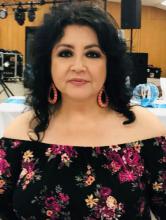 Velia Aguilar Marrow, 56, left this earthly realm on Saturday, December 19, 2020, in San Angelo. She is now resting in eternal peace with her Lord, Jesus Christ.

She was born on January 20, 1964, to the late Rodrigo and Carmen Aguilar, in San Carlos, Coahuila, Mexico. Velia attended Reagan County schools, where she graduated in 1982, and remained to live in Big Lake for most of her life. Upon graduation, Velia began her banking career with Reagan State Bank, where she was Head Teller and Head Loan Department Teller. For the following twenty-four years, she continued working at Del Rio National Bank, Security State Bank and Big Lake Bank before transitioning to the Reagan County Tax Assessor-Collector office. There she served for almost fifteen years as a Deputy Tax Assessor collector till the time of her death.

Velia was a beautiful soul who never met a stranger. She was very selfless, always thinking of others before herself. She was very generous with her time, talents, and treasures, always ready to help when and where she was needed. She dedicated her life in building up and doing for others, especially for her mother and her daughter, Jamie. Velia enjoyed going to social functions, dancing and just hanging out with family and friends. She was always so joyful, laughing and made it so much fun for all those around her. Velia had strong work ethics as she believed that nothing would be handed to her, she knew she had to go out and work hard for everything she wanted. Velia was immensely proud of her daughter, Jamie, and her family, and she has left us nothing but beautiful memories. She was truly a great person and our family will never be the same without her.

Velia loved to travel! She would share her experiences and memories with anyone who would ask her about her ventures. She was especially fond of her time spent in Madrid and Barcelona, Spain. Even until recently, she was already making plans to go back to Mexico City, another one of her favorite destinations.

She was a member of St. Margaret of Cortona Catholic Church in Big Lake. Velia had the privilege to serve in Parish Council and the Finance Committee over the years. However, her greatest passion was working with the youth, where she taught Catechism and helped with youth ministry. Velia touched many young lives by sharing her life lessons with them and by being present for them. She worked tirelessly to help with any fundraisers and with the church festivals every year. Although Velia faced many obstacles and challenges throughout her life, she remained steadfast in her faith and was optimistic in all situations. Her favorite quote was, "This too shall pass." Her faith was very important to her and that was something she instilled and passed down to her daughter as well.

Left behind to cherish her memories are her daughter and son-in-law, Jamie and Aaron Alexander, and their unborn baby boy, Jaxon of Borger; her mother, Carmen Acevedo; her four sisters and brothers-in-law, Evangelina Resendez, Connie & Mario DeHoyos, Carmen & Eddie DeHoyos of San Angelo, and Nora & Pedro Rodriguez of Sonora. She is also survived by several nieces and nephews, great nieces and nephews, numerous aunts, uncles, and cousins. She is also survived by her loving companion, Jaime Gallegos, and his children. She left behind many, many friends, but none closer than Shawna De La Rosa, Victor Villarreal, and Rosemary Black. She was preceded in death by her father, Rodrigo Aguilar.

Viewing and Wake Service will be on Monday, December 28, 2020, from noon until 8:00 PM with the Rosary being at 6:00 PM at Robert Massie Riverside Chapel. The Mass of Resurrection will be on Tuesday, December 29, 2020, at 10:00 AM at the Cathedral of the Sacred Heart in San Angelo. It will be followed by a burial service where Velia will be laid at her final resting place at Glenrest Cemetery in Big Lake. The family asks that everyone please wear your masks.
VISITATION
Monday
December 28, 2020
12:00 PM to 8:00 PM
Robert Massie Riverside Chapel
402 Rio Concho Dr.
San Angelo, TX 76903
---
ROSARY
Monday
December 28, 2020
6:00 PM to 6:30 PM
Robert Massie Riverside Chapel
402 Rio Concho Dr.
San Angelo, TX 76903
---
MASS OF CHRISTIAN BURIAL
Tuesday
December 29, 2020
10:00 AM
Sacred Heart Catholic Church
20 E Beauregard Ave.
San Angelo, TX 76903
Write Your Tribute