Dates

Jun 10, 1953 Dec 19, 2020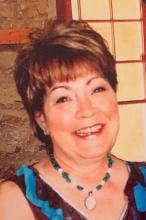 Katie Clark Perez, 67, went to dance in heaven on Saturday, December 19, 2020, in Austin as a result of complications due to a heart transplant.
Memorial services will be 2:00 PM Monday, December 28, 2020, at Robert Massie Riverside Chapel. Arrangements are under the direction of Robert Massie Funeral Home.
Katie was born the third of five children on June 10, 1953 in Cleveland Heights Ohio to Doug and Kitty Lou Clark. She has been a resident of San Angelo and graduated from Central high school in 1972. Katie married Henry Perez on August 29, 1992 in San Angelo. She will be remembered for her happy spirit, joyfulness, positivity, and her ability to uplift all during tough times. Katie's family were the light of her life. Her laughter, encouragement, faith determination and joy will always be with her siblings. Katie will be greatly missed by family and friends.
Katie's bright spirit, goodness, humor, joyfulness, and positivity will remain in the hearts of friends and family who survive her.
Survivors including her adoring husband, partner, confidant, strength, and soulmate, Henry Perez; her son, Gordon Buescher and wife Emily; her daughter, Belle Webb; three grandchildren, Ada Rose Buescher, Brewton Buescher, and Coltyn Webb; Henry's children, Eric Perez, Marcy Perez and Gloria Cuellar; a brother, Doug Clark and wife Billie; and three sisters, Bunny Parsons and husband Joe, Paula Clark Hall and husband John, and Drew Clark Bowles and husband Guy.
Write Your Tribute