Dates

Jan 06, 1937 Aug 19, 2020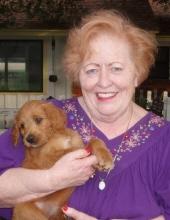 Delores L. Cain, 83, passed away peacefully at home August 19, 2020 with loved ones present. She was born January 6, 1937 to Silas and Raye Leddy in Brady Texas. She married Frank G. Cain August 31, 1956 and had 3 children.  
Delores was sweet, kind and always chose happiness. She was a Christian and her love of God and His word led her to see the best in others. She was well read and a wonderful conversationalist. She taught her children many important lessons in life so they would be the best they could be and to live, love and work with honesty, integrity and great enthusiasm. She encouraged them to live life to the fullest. She was generous and forgiving. Scripture tells us that love covers over a multitude of sins. Our mother dispensed love and her great sense of humor on an unconditional basis to all her family and friends. How blessed we have been to have her love and support all our lives! We give her over to our Heavenly Father for eternal rest and peace, in sadness for our loss, but in joy that she no longer suffers in her earthly body. Our prayer is that all of her family will see her again in Paradise. Her legacy will live on through her beloved children and grandchildren.  
She was preceded in death by her parents, her husband, sisters Guerry Ellen Jordan and Sue King and son Michael Patrick. Delores leaves behind daughter Dianna Cain of San Angelo, son Christopher Cain of San Angelo, son Frank (Chip) Cain, his wife Jana Cain and their children - her beloved grandchildren Jacob, Bridget and Lily Cain. Also numerous nieces and nephews and their families. Although Delores has moved on to her eternal heavenly home she will live on proudly through the actions of and in the hearts of all those that loved her so. Well done thy faithful servant! 
Please join us in celebrating Delores Cain's life this Saturday, May 8th, 2021 at Cain's Cove on Lake Nasworthy at 11am. (3338 Jaycee Rd, San Angelo, TX 76904) Please consider a donation to Meals on Wheels, Samaritan Purse or any Veteran's charities in lieu of flowers! Casual dress for this outdoor celebration on the huge covered patio with a nice breeze. If you can't be there by 11am please still come! We'll be eating and telling mom stories at least till 1pm!
Celebration of Life
Saturday, May 08, 2021
11:00AM-1:00PM
Cains Cove on Lake Nasworthy 
3338 Jaycee Rd,. 
San Angelo, TX 76904
Write Your Tribute