Dates

Feb 07, 1924 Jun 26, 2015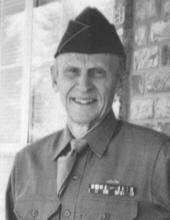 Friday morning, June 25, 2015, Robert M. "Bob" Waldrep went to be with his Lord. He was born February 7, 1924. His parents were James A. and Adah V. Waldrep of Tulsa, Oklahoma. He graduated from Will Rogers High School in Tulsa in 1942. In the summer of 1943 he was inducted into the Army at Ft. Sill, Lawton, Oklahoma. He was a part of the Army Specialized Training Program in Commerce, Texas. In 1944, he was sent to the 99th Infantry Division at Camp Maxey where their training sargeant said "You college boys may think you are the cream of the crop, but I can tell you, as of now your cream has gone sour!" Bob always said, the man meant every word. They crossed the Atlantic on the USS Argentina in early winter, landed in England, crossed the English Channel into France and arrived in Belgium in time for the beginning of the Battle of the Bulge. They pushed the Nazis out of Belgium and crossed the Rhine River over the bridge at Remagen. Under heavy fire, Staff Sgt. Waldrep led his entire squad safely across the bridge a few hours before the bridge fell. In Ginsterthahn, Germany the young sargent sent his squad out of danger as he single handedly kept a German force preoccupied and delayed a German tank from attacking his men. 

Bob was awarded two Bronze Stars for Courage Under Fire, two Purple Hearts, and the Belgium Medal of Courage and Valor, among other medals.

After the war was over he returned to Oklahoma A&M (now OSU) to complete his education. There he met "Ruthie" and married her 2 1/2 years later after graduating. Together they raised four children and now enjoy 10 grandchildren and 15 great grandchildren. They celebrated 66 years of marriage together. 

Bob and Ruthie lived in Tulsa, Ft. Worth, Corpus Christi and Houston, Texas before retiring to San Angelo. He worked 29 years for Apollo Paper Company as a much revered salesman. He was an active deacon at Richmond Plaza Baptist Church and Houston's First Baptist Church. Most recently he was an honored member of Paul Ann Baptist Church, San Angelo.

Bob specialized in unconditional love and forgiveness. His entire family points to him as their definition of courage, determination, personal faith, genuine friendship, servant-leadership and integrity. 

He temporarily leaves behind his wife, Ruth Waldrep, children: Jim (& Peggy) Waldrep, Becky Woodall, David Waldrep, Sr. and Dana (& Jay) Dickens. Honorary pall bearers: Steven and Brandon Woodall, David Alan and Daniel Waldrep, Jason Dickens and Marshall Mcfadden.
The family will have a private graveside service with military honors under the direction of Robert Massie Funeral Home. A Memorial Celebration will be held at 1:00 pm, Tuesday in the Baptist Retirement Chapel, 902 N. Main, San Angelo, Texas led by Pastor Kirt Dauphin of Paul Ann Baptist Church.

In lieu of flowers: please donate to the Paul Ann Baptist Church Mission fund or the charity of your choice.
Write Your Tribute