Dates

Feb 25, 1934 Dec 14, 2013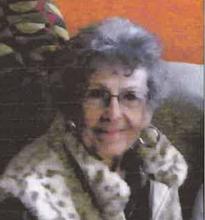 Vaudine (Deanie) Eldridge, 79, of Stanton, Texas passed away on Saturday, December 14, 2013 in San Angelo.
Graveside services will be held 2:00 pm Tuesday, December 17, 2013 at Lawnhaven Memorial Gardens. Arrangements are by Robert Massie Funeral Home.
Deanie Eldridge was born in Quanah, Texas to F.F. and Adele Fleming on February 25, 1934. She went to school in San Angelo and graduated from Lakeview High School in 1952. She married William Anthony Eldridge on October 25, 1956 in Ft. Worth, Texas. Deanie was an Air Force wife who took care of her 3 girls and household, sewed for the Officers' wives, built furniture, worked in auto parts, built and owned a miniature golf course with her husband and high school friends, then worked as a bookkeeper for the Carriage Dress Shoppe in San Angelo for several years before retiring 3 years ago. Deanie Eldridge, as manager, along with her teammates was inducted into the Lakeview High School Hall of Fame in 2012 for the 1952 Lakeview Maidens basketball team.
Deanie was preceded in death by her daughter, Karen Crossnoe; great-granddaughter, Kadyn Wilson; and sons-in-law, Michael Delavan and Boyce Kennedy.
Those left to cherish her memory are her husband William Anthony Eldridge, daughter Susan (Henry) Armendarez, daughter Toni Kennedy (Gary Cabral), grandchildren Stephen (Rindi) Wilson, Justin (Ashley) Wilson, Aimee Crossnoe (Robert Arterbury), Amanda (Alex) Monarrez, Hank (Belinda) Armendarez, Michael (Kailey) Delavan and Brandon Fort, 11 great-grandchildren, several nieces and nephews and special friends Mona and Bob, Peggy, Jeanette, Thelma, Barbara, Pat and her monthly Thursday luncheon girls.
The family wishes to extend sincere thanks to the staff at Arbor Terrace, Domingo Lopez and the staff at Odyssey Hospice. 
Write Your Tribute