SAN ANGELO, TX — The woman previously described by police as the getaway car driver was arrested in Abilene on a warrant for a murder indictment in Tom Green County yesterday afternoon. She was previously described as the getaway driver following the murder at the Red Roof Inn late Sunday morning, July 7, in San Angelo.
According to the Abilene police, Jennifer Badillo was arrested at her residence yesterday afternoon. A Tom Green County grand jury indicted her for murder that was filed in the 391st District Court on Sept. 5.
She is the third person arrested in connection with the murder of 32-year-old Gilbert Mascorro. Mascorro's body was found in a motel room at the Red Roof Inn on Sunday, July 7, lying in a pool of his own blood. The affidavit stated he was shot multiple times, including at least once in the face.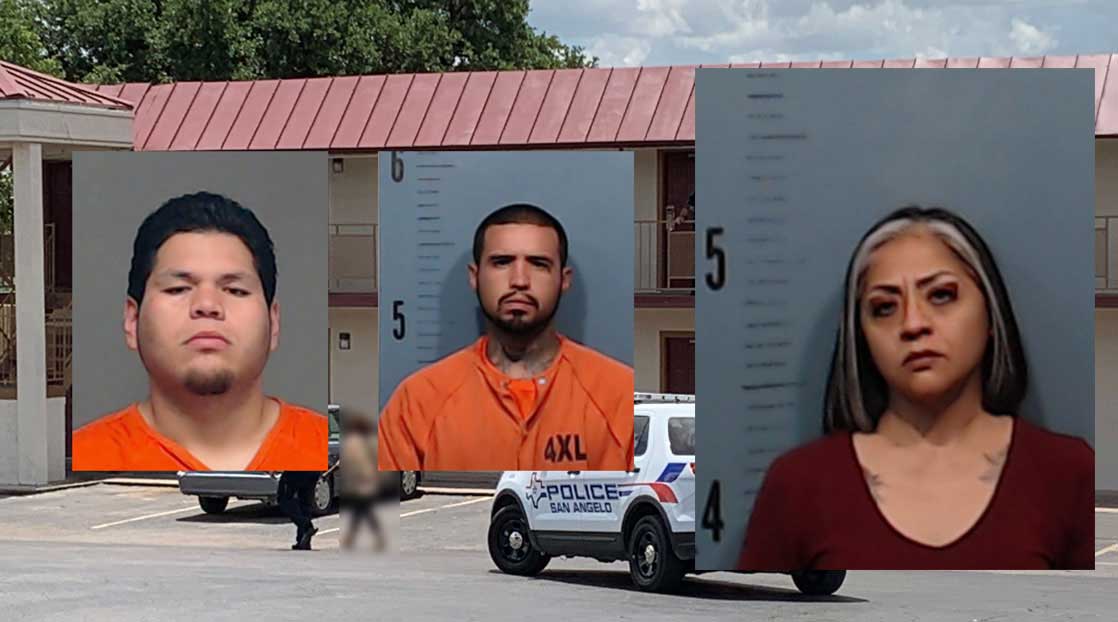 Above: Jennifer Badillo (right) with two men arrested in connection with the murder, Daniel Diaz (left) and Jessie Robinson (middle).
According to Badillo's statements recorded in the affidavit, she drove Jessie Robinson from Abilene to San Angelo to buy some "ice," or meth, from a dealer here. Along the way, the two picked up Robinson's brother-in-law, Daniel Diaz, at the San Angelo Lodge motel. Mascorro had set up shop at the Red Roof Inn when the two men with Badillo arrived there late Sunday morning.
WATCH: The scene on the day of the murder:
Upon arrival, she told police that the two men got out of the car and demanded that Badillo get into the driver's seat. Badillo told police while the men were upstairs in a motel room she heard gunfire. When the men returned and got back into the car, she said they ordered her to start driving. Badillo told police she could only drive for a short time before she broke down. She began to shake so bad that Robinson replaced her at the wheel.
Diaz was arrested July 10 for taking part in that drug transaction July 7. At that time, he was on probation for evading arrest causing death and remains in jail today pending a motion to revoke his probation. Diaz pleaded guilty to being the driver of the Ram pickup that hit a light pole at the intersection of W. Concho Ave. and Abe St. on April 20, 2018 [2]. As a result of that crash, with multiple San Angelo police units in pursuit, one of Diaz's two passengers, Gaiden Crelia, 20, was killed. Police reported then that the occupants were high on narcotics and drug paraphernalia was found in the wrecked pickup.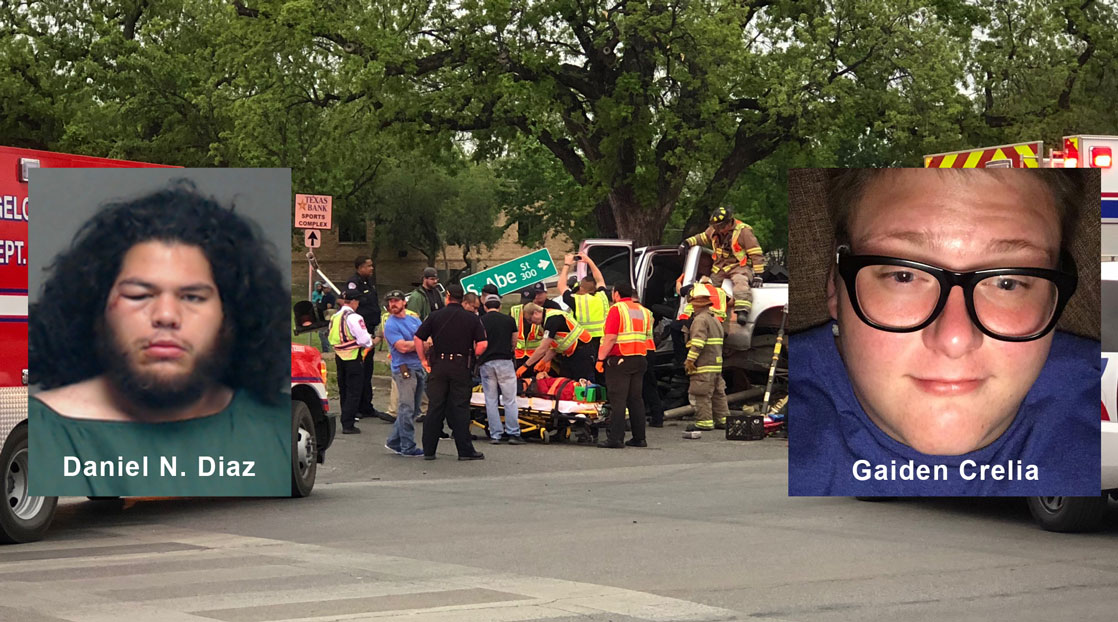 Above: Daniel Diaz following his arrest in April 2018 for evading arrest causing death. Gaiden Crelia was a passenger who was killed during the police chase. 
Diaz was sentenced to 5 years probation in lieu of a 10-year prison sentence for the 2018 evading arrest causing death conviction.
His next hearing in the 391st District Court is Sept. 27 for a trial where Diaz is expected to plea not true to the MTR charge. Diaz is listed as a co-defendant on the indictment of Jessie Robinson and Jennifer Badillo but so far a murder indictment of Diaz has not appeared in court records.
Jessie Robinson was indicted for the July 7 murder the same time as Badillo. He was already sitting in the Taylor County Jail since his arrest July 9 for evading arrest from the Abilene police. Robinson's indictment was enhanced due to a previous conviction for aggravated robbery in 2011.