OPINION — There's an old joke about a young family moving to Refugio, Texas, and sending their six-year-old son to school there on his first day of first grade. After school his mother asked him what he learned at school, and he said, "I learned I'm gonna be a tackle."
The story probably isn't true. Probably. But then, maybe it is.
When a Texan hears someone say 'Refugio,' the first thing they usually think of is high school football. A perennial powerhouse on the gridiron, Refugio is synonymous with Texas football, and rightfully so. Southlake Carroll may have the most high school football championships with eight, but the Bobcats aren't far behind with four, and they've been high-level contenders more times than most. Their last state win came in 2016, after knocking out the Mason Punchers in the Class 2A Division 1 quarterfinals two weeks before.
Mason and Refugio have met at the same stage the last four years in a row, with Refugio taking the honors the first three times, in 2015, 2016, and 2017. Every class has its top contenders, and the Mason-Refugio rivalry has emerged as a meeting of 2A titans. Both schools are fiercely competitive. All teams hope to win; Mason and Refugio expect to win.
But being opponents on the football field doesn't equate to being enemies. When Refugio was hit hard by Hurricane Harvey during the summer of 2017, the students at Mason High School took it upon themselves to help out their neighbors to the south. Most of the buildings in Refugio were either damaged or destroyed, leaving many, including the majority of the football team, homeless.
Despite Harvey, Refugio only cancelled its first game of the season. The players moved in with family or friends, and refused to allow a little thing like a natural disaster spoil their season. And although Shiner, Canadian, and Mason have all become traditional rivals to the Bobcats, those towns were among the most determined to help Refugio out in their time of need.
Beginning with the Mason senior class, the students pitched in helping with a citywide garage sale, accepting items that eventually filled a vacant building in town. The kids worked up to five hours a day sorting and preparing items for the sale. The effort ended up raising over $5,600, which was sent to Refugio, along with other donations, including the proceeds from a Mason church's annual fish fry.
WATCH: Mason vs New Deal: Jake Cockerham at 2018 2A D1 State Championship Game on Dec. 20, 2018. He was named MVP offensive player of the game.

Mason and Refugio met that fall at the state quarterfinal playoff game at the Alamodome in San Antonio for the third year in a row. The Bobcats were the reigning state champs, and would go on to unsuccessfully defend their title at AT&T Stadium two weeks later, after defeating the Punchers 38-14. So this year, when the two teams met at the same week in the season, for the same title, in the same stadium, it was deja vu all over again, for the fourth time. Except for the outcome of the game.
That matchup, despite the two following levels of advancement, became the de facto state championship game, which Mason won in a hard-fought battle after losing starting quarterback/defensive safety Otto Wofford to a targeting call just before the half. Their 28-14 victory over Refugio proved to be their most difficult win of the season since their opener against 3A powerhouse Wall, which the Punchers won 27-21 in a nail biter that came down to the final three minutes.
WATCH: Mason Punchers run out of the tunnel before 2018 state championship game

Mason's 44-6 state championship win over the New Deal Lions could have been somewhat anticlimactic after the Refugio game, if . . . If it hadn't been head coach Kade Burns' second state title win at Mason, and if it hadn't been his 100th Puncher victory in his eight years leading the team, and if the win hadn't put him one win short of the record of the winningest head coach Mason ever had, and if that coach hadn't been Kade's father, Melvin, who I played (quite badly) for almost four decades ago. Yeah, except for all that.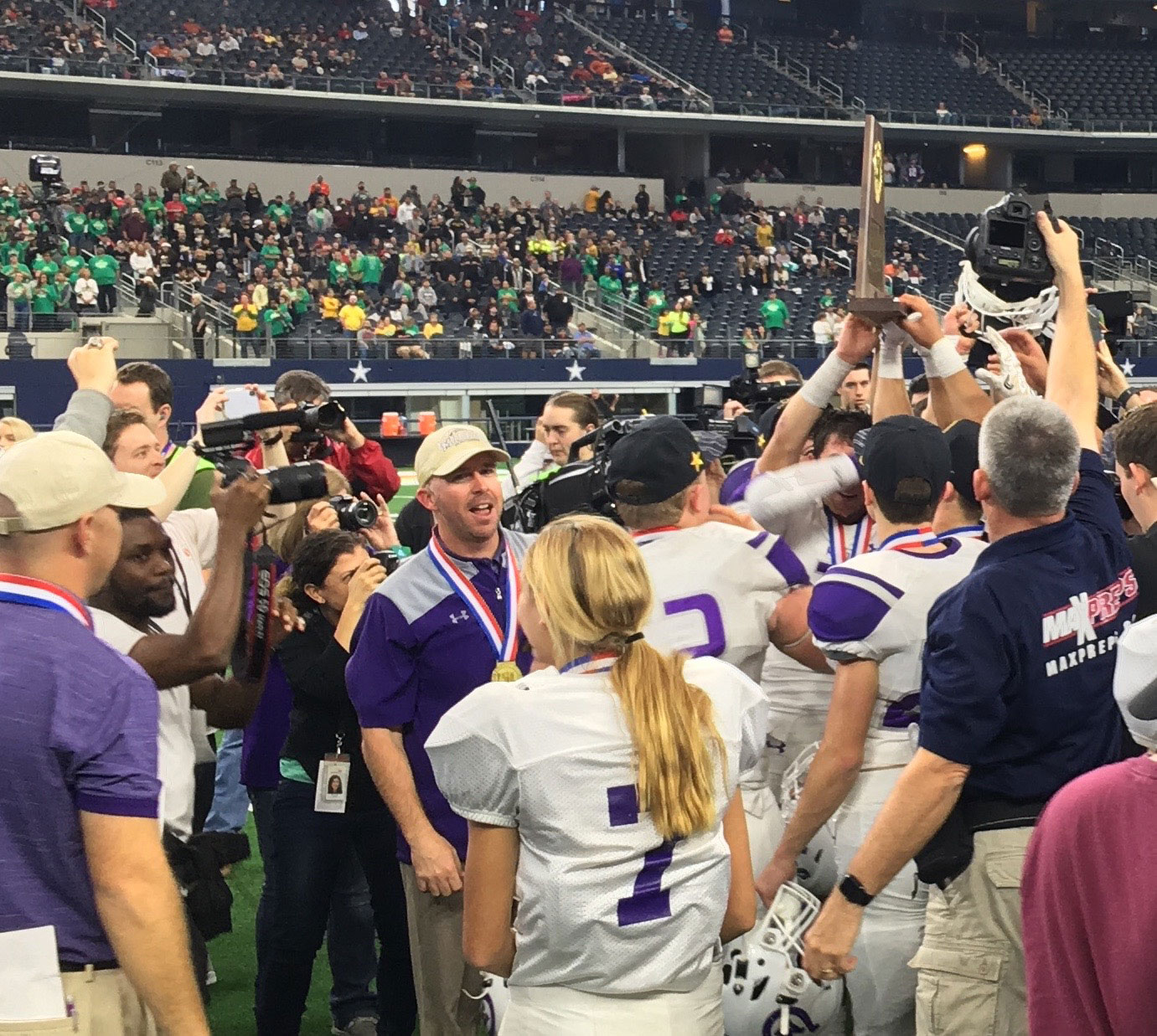 Above: Coach Kade Burns holds the state champs trophy high. (LIVE! Photo/Kendal Hemphill)
I stepped into the elevator before the final at Cowboy Stadium and ran into Kevin Burns, Kade's brother, and the oldest of Melvin & Sandra's four boys. Kevin is a head coach himself, and has probably forgotten more about football than I'll ever know. I said, "Kevin, what's about to happen?"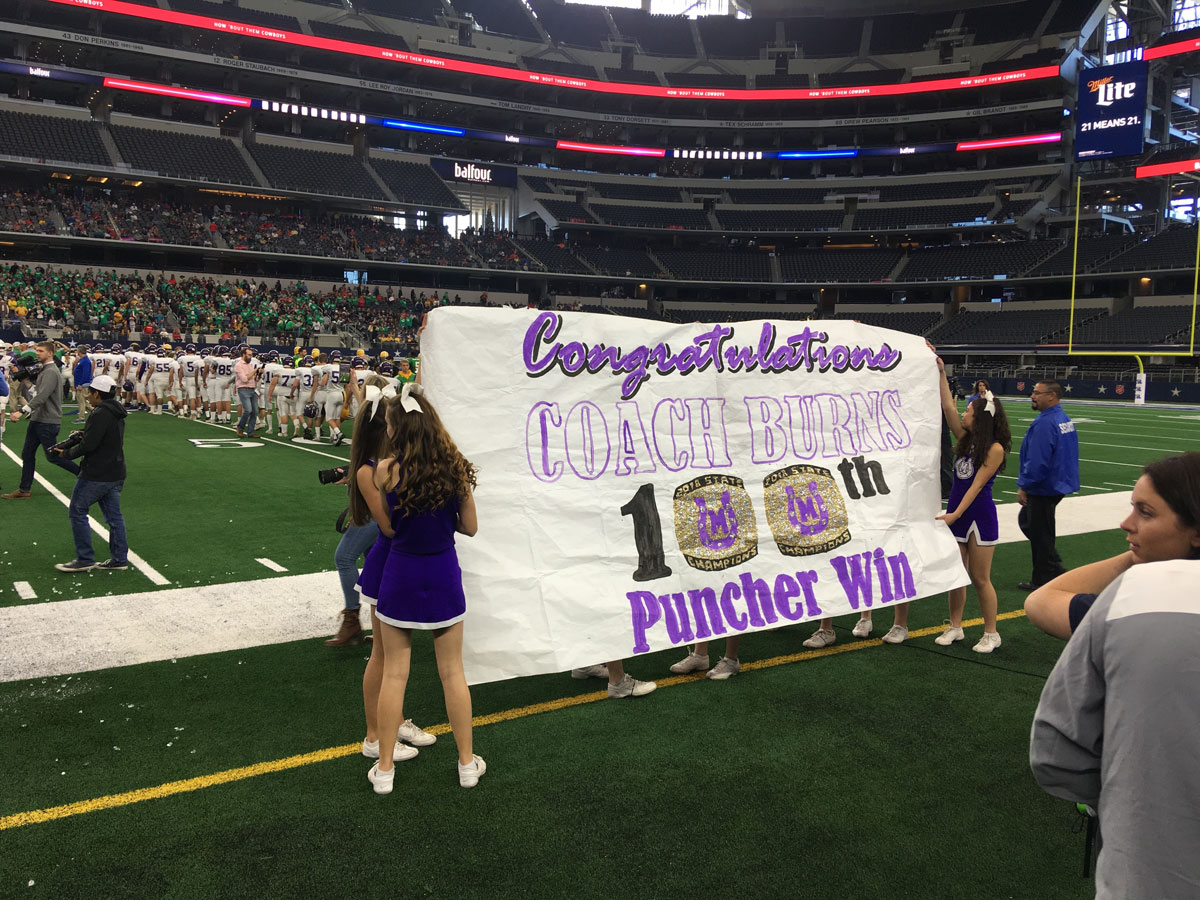 Above: After defeating New Deal to win the Class 2A Div. 1 State Championship, a banner displayed congratulates Mason's Coach Kade Burns for his 100th win. (LIVE! Photo/Kendal Hemphill)
When he answered, I heard Melvin, who passed on about a decade back. He said, "We're about to play a football game." I laughed, and he said, "All I know right now is that the score is zero to zero. We'll see what happens."
During the second half, when Mason was up 37-6, I caught Kevin standing on the sideline and he seemed a lot more relaxed. I told him the only thing wrong with the game was that his dad wasn't there to enjoy it. Kevin grinned and said, "He's got the best seat in the house."
I think he was right . . .