SAN ANGELO, TX — The secret of Eggemeyer's General Store's success in downtown San Angelo isn't just the selection of merchandise for sale, said Eric Eggemeyer. "It's the experience."
Now, he is building a new retail experience next to his family's original Eggemeyer's General Store on E. Concho Ave.
Believing a real, in-person shopping experience will not be replaced by ecommerce, or buying things online, Eggemeyer, who has a degree in Architecture from Texas Tech University, sees a new urban trend. Shoppers are abandoning the malls and returning to revitalized downtowns, or replicas of them, that offer a fun shopping experience.
He traces his family's retailing experience in downtown San Angelo as a real life, if not anecdotal, pilot project that proves his hypothesis is correct. All of his teen and adult life, Eggemeyer has been an integral part of his family's rise in prominence in San Angelo's downtown with their retail store, and before that with a restaurant and piano bar that was formerly across the street where Miss Hattie's is today.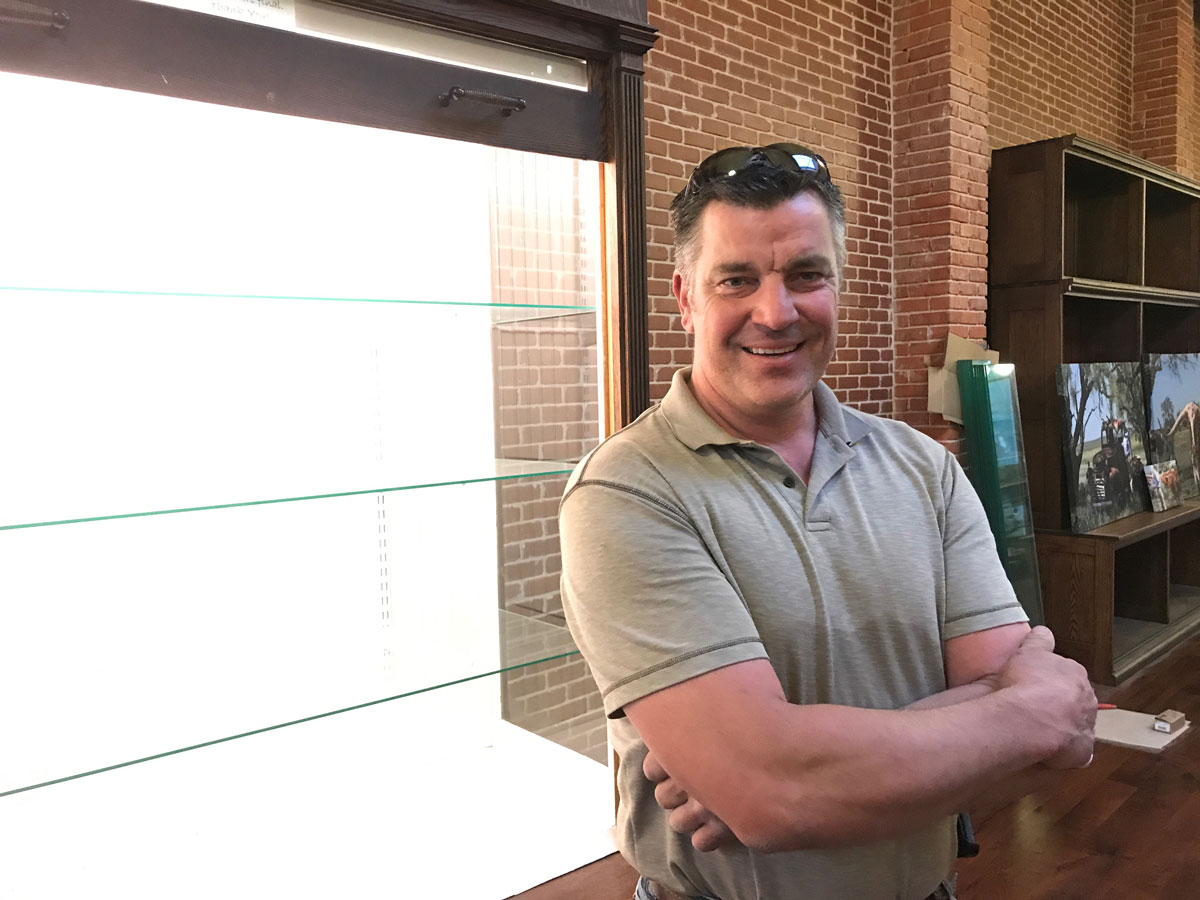 Above: Eric Eggemeyer inside his new retail store soon to open in downtown San Angelo. (LIVE! Photo/Joe Hyde)
McKinsey and Company, a management consulting company, has examined the future of suburban malls. Their findings mirror what Eggemeyer learned through experience. "Open air malls go a long ways toward lending an atmosphere of a town center," reads a McKinsey and Company white paper on "The Future of the Shopping Mall [2]." Open-air suburban malls newly built today are designed to feel like a downtown, or a "town square." These are shopping centers where one can practically park directly in front of a store, like the Arlington Highlands [3] between Dallas and Fort Worth on Interstate 20
Eggemeyer is fascinated with a similar property in San Antonio, the Shops at La Cantera [4]. Both Arlington's and San Antonio's open shopping concepts have in common "town square" experiences, and those experiences, Eggemeyer thinks, are more authentic and credible in a historical city square, like San Angelo's downtown. One feature missing, he thinks, is a high-end retail experience.
WATCH as Eric Eggemeyer unveils the facade of his new retail store:
He is about to open one. The façade looks like Tiffany & Co. without the fancy lighting. Eggemeyer said he designed the new store's facade using several concepts from the late Oscar Ruffini (1858-1957), the architect of San Angelo of old. Ruffini designed the original courthouse built in 1885, but not the current Tom Green County Courthouse. Many buildings that are of Ruffini's design are still standing, such as those on Block One of E. Concho Ave. For example, the former San Angelo National Bank, and the building next door are Ruffini designs. The historical marker describes what these buildings look like, "a facade of stone, cast iron, and sheet iron."
Here is a 1978 photo of those buildings before their renaissance the next decade. You can see the Ruffini style—arches, blocks, etc.— in their bare state.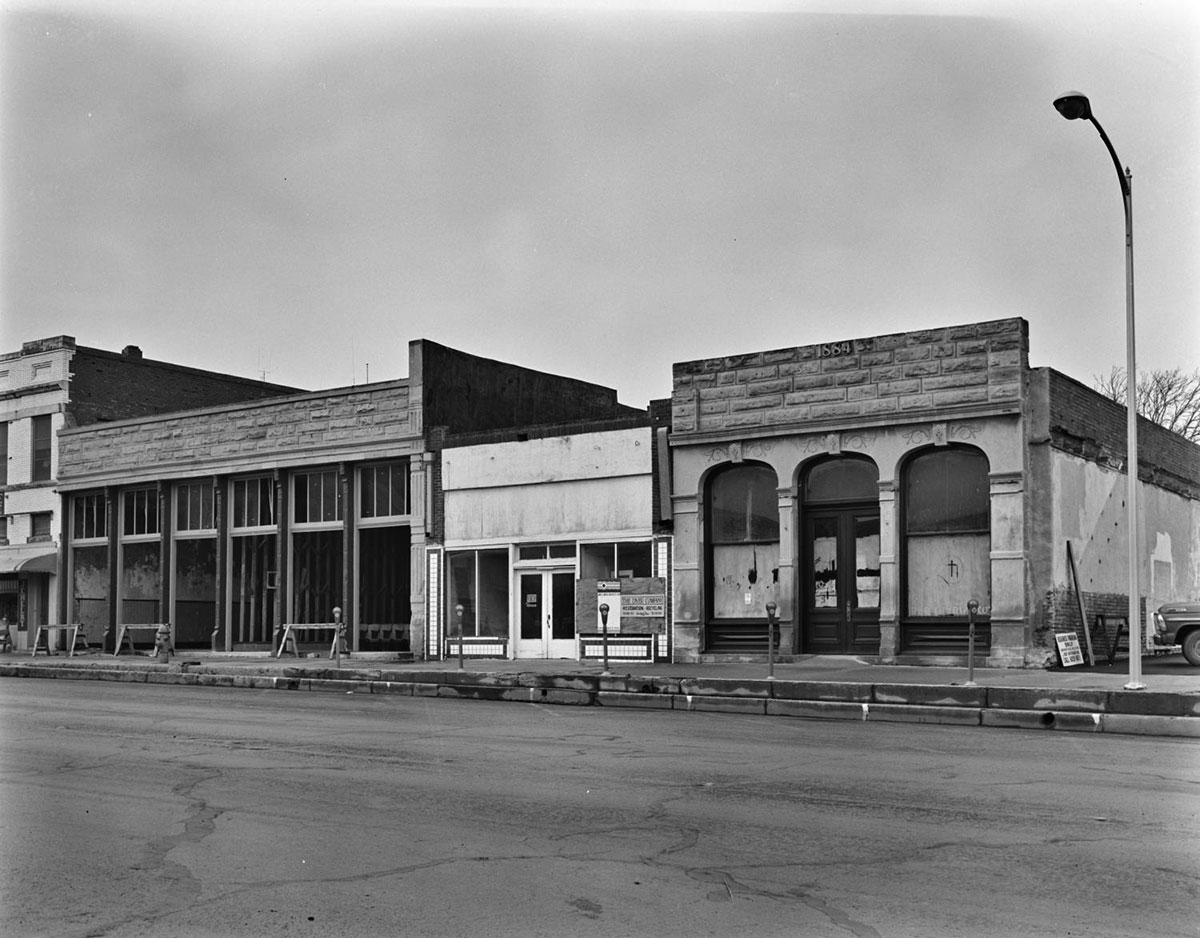 Above: Klein, Stan & Moore, David. [San Angelo National Bank, Johnson-Taylor, Schwartz and Raas Building, (Southeast elevation of Schwartz and Raas)], photograph, January 31, 1978; (texashistory.unt.edu/ark:/67531/metapth666182/: accessed December 3, 2017), University of North Texas Libraries, The Portal to Texas History, texashistory.unt.edu; crediting Texas Historical Commission. 20-26 E. Concho Ave., San Angelo, Texas.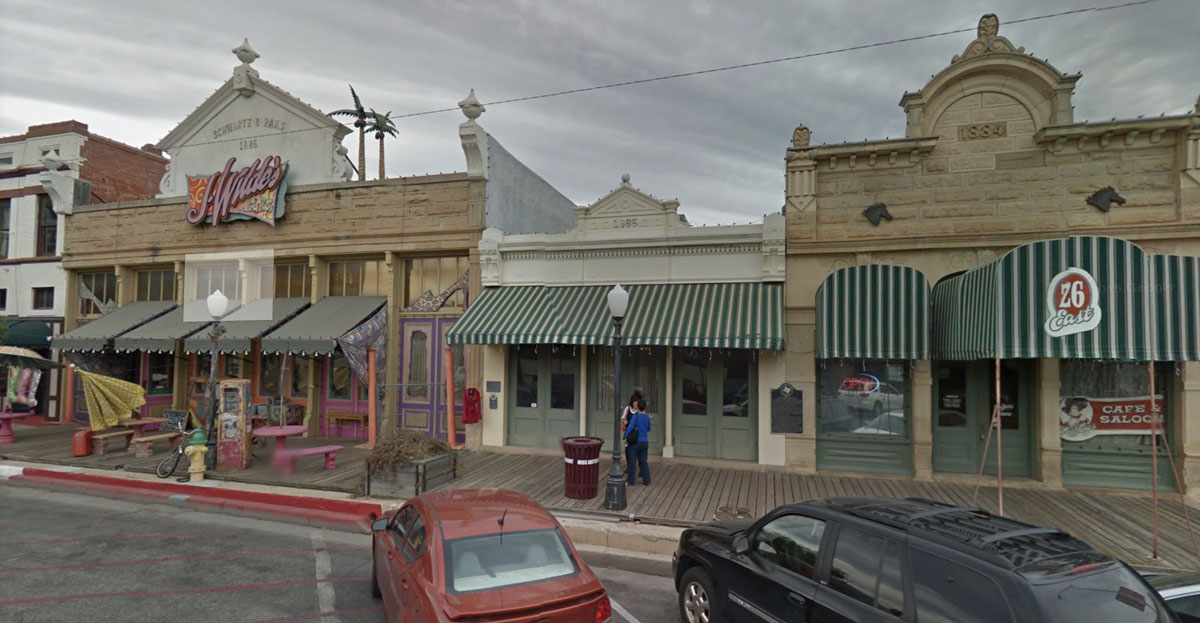 Above: The same buildings today, after their restoration in the 1990s. These buildings at 20-26 E. Concho Ave. are across the street from Eggemeyer's new retail space.  (Google Earth Street View)
Ruffini's style has been referred to as "Italianate." Eggemeyer is more descriptive. "A blocking effect, arches and keystones. Maybe some columns," he said. The building housing The Black Swan, 118 S. Chadbourne St., is a Ruffini design, originally known at the J.J Rackley Building. Think blocking effects, arches, and keystones when you examine the photo: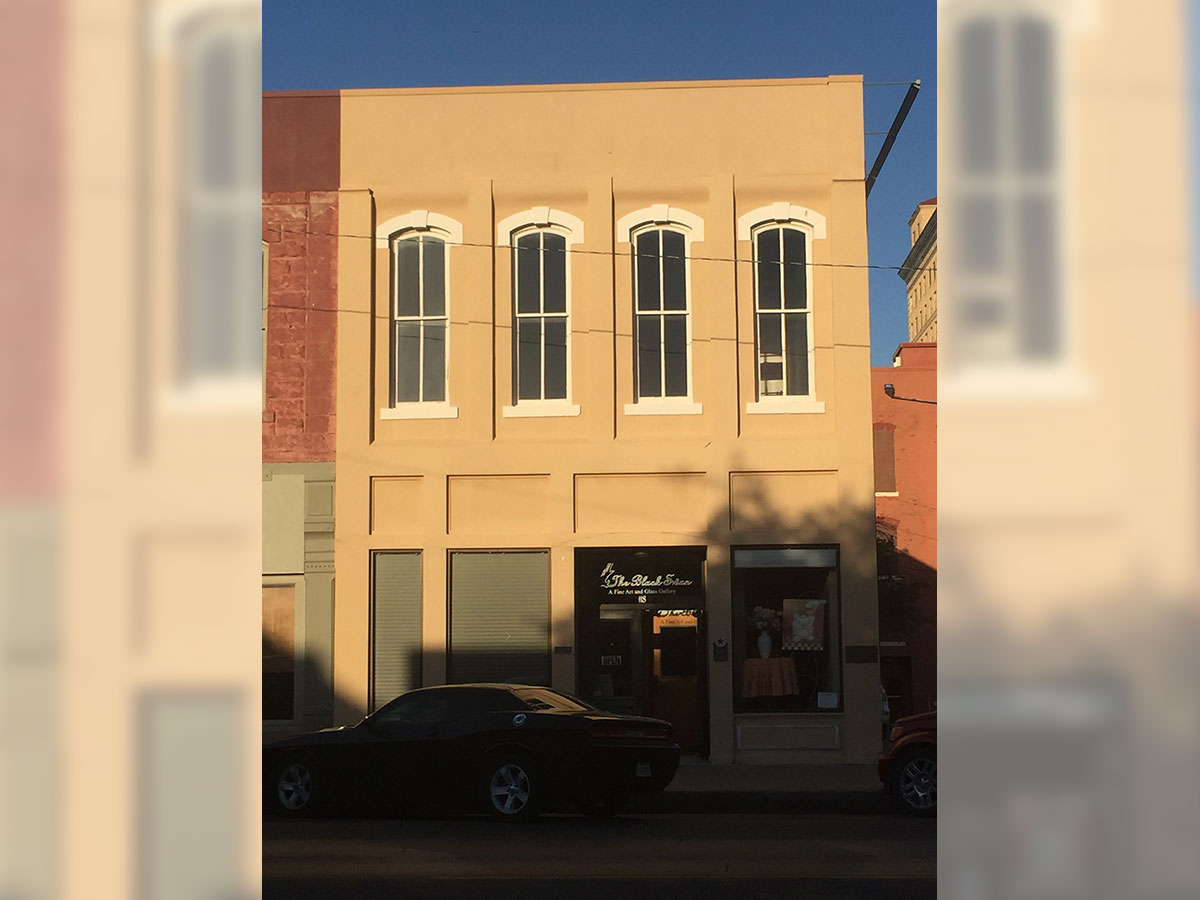 Above: Ruffini is credited with the design of 118 S. Chadbourne St. in San Angelo, the J.J. Rackley Building. (By Marklack (Own work) [CC BY-SA 4.0 (https://creativecommons.org/licenses/by-sa/4.0 [5])], via Wikimedia Commons)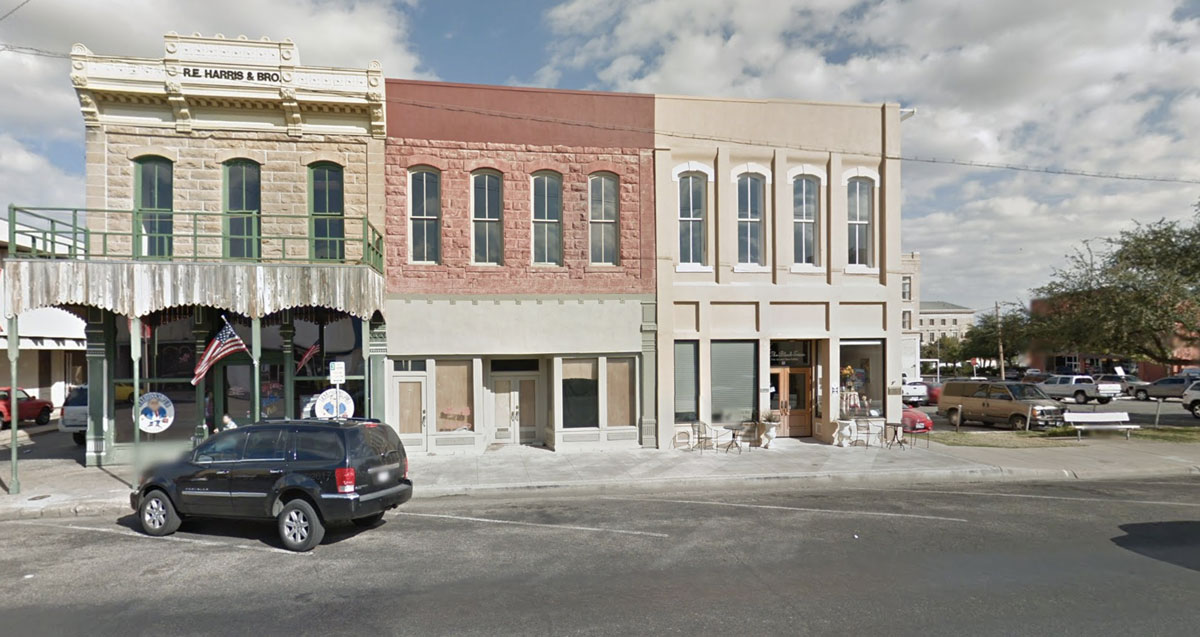 Above: The Three Sisters downtown at 113-118 S. Chadbourne St. The J.J. Rackley Building is on the right. (Google Earth)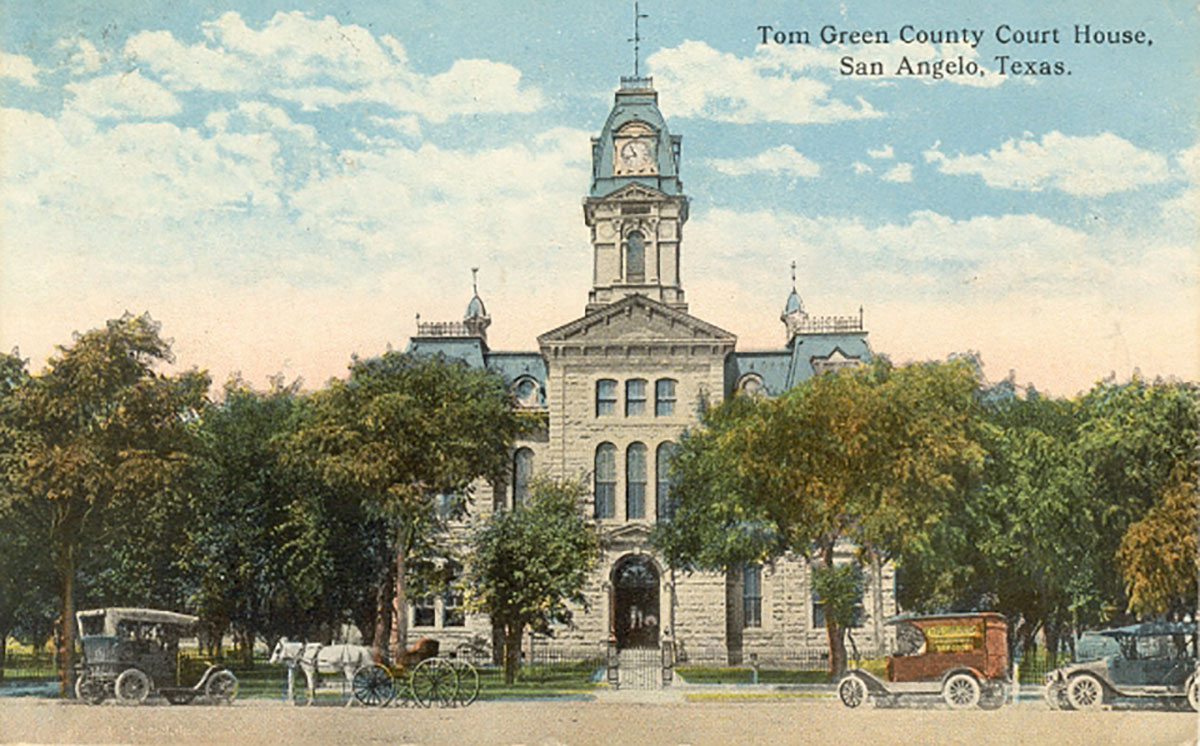 Above: The original Tom Green County Courthouse, circa 1885. A design by Ruffini. (Postcard on eBay)
The building Eggemeyer is refurbishing, right next door to his family's Eggemeyer's General Store, at 33 E. Concho Ave., was also a Ruffini design. Yet more than a century of wear, tear, and fire made the Ruffini flourishes unrecognizable. The structure, built in 1887, has 17-foot ceilings, and used to have a second floor, with the two-story building fronted by a brick façade, Eggemeyer said. Decades ago, the second floor was demolished and the rubble swept off leaving an 8-inch-thick, solid concrete roof that formerly was the floor of the second story. Now a roof, the slab that remains is completely flat, with no pitch to run off water. "It doesn't leak, but it doesn't let the water run off easily either," Eggemeyer said.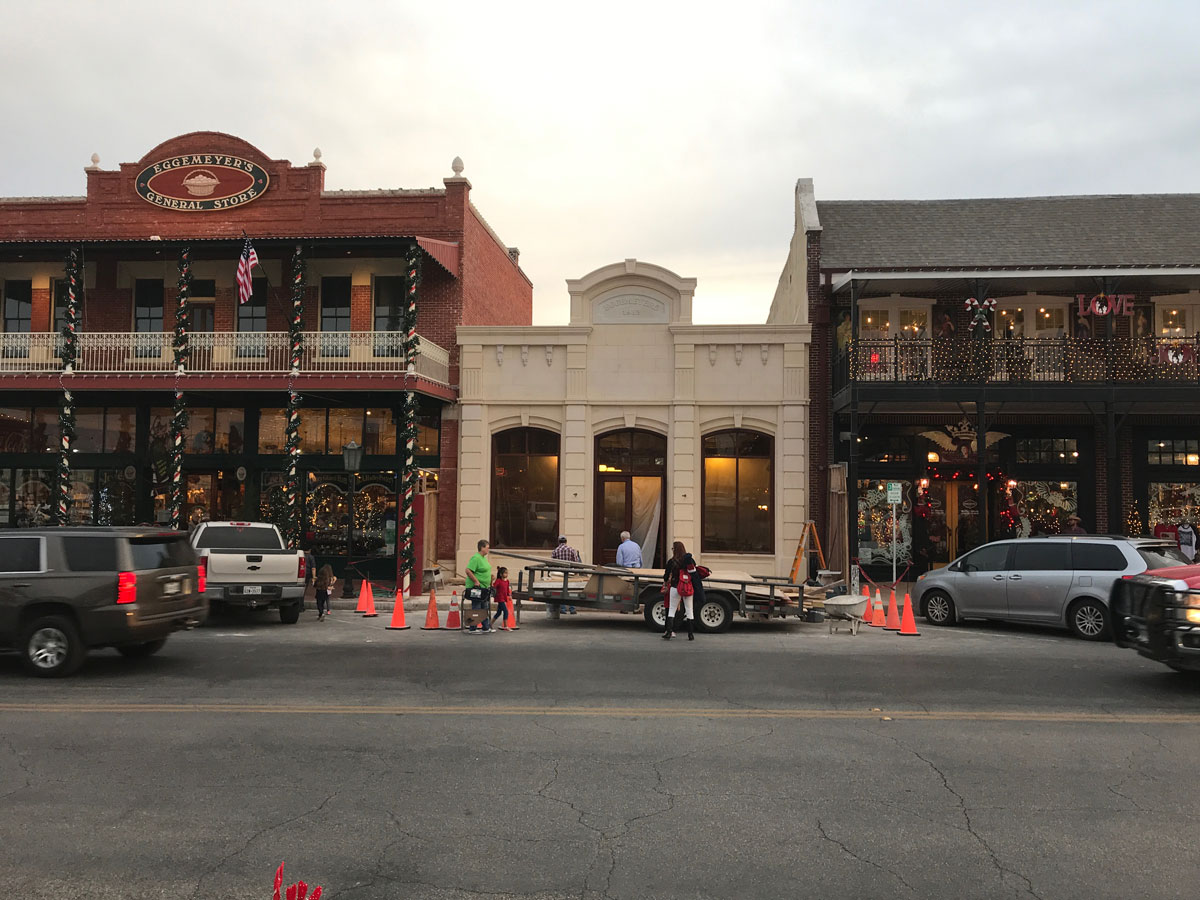 Above: The new facade at 33 E. Concho Ave., next to the existing Eggemeyer's General Store. (LIVE! Photo/Joe Hyde)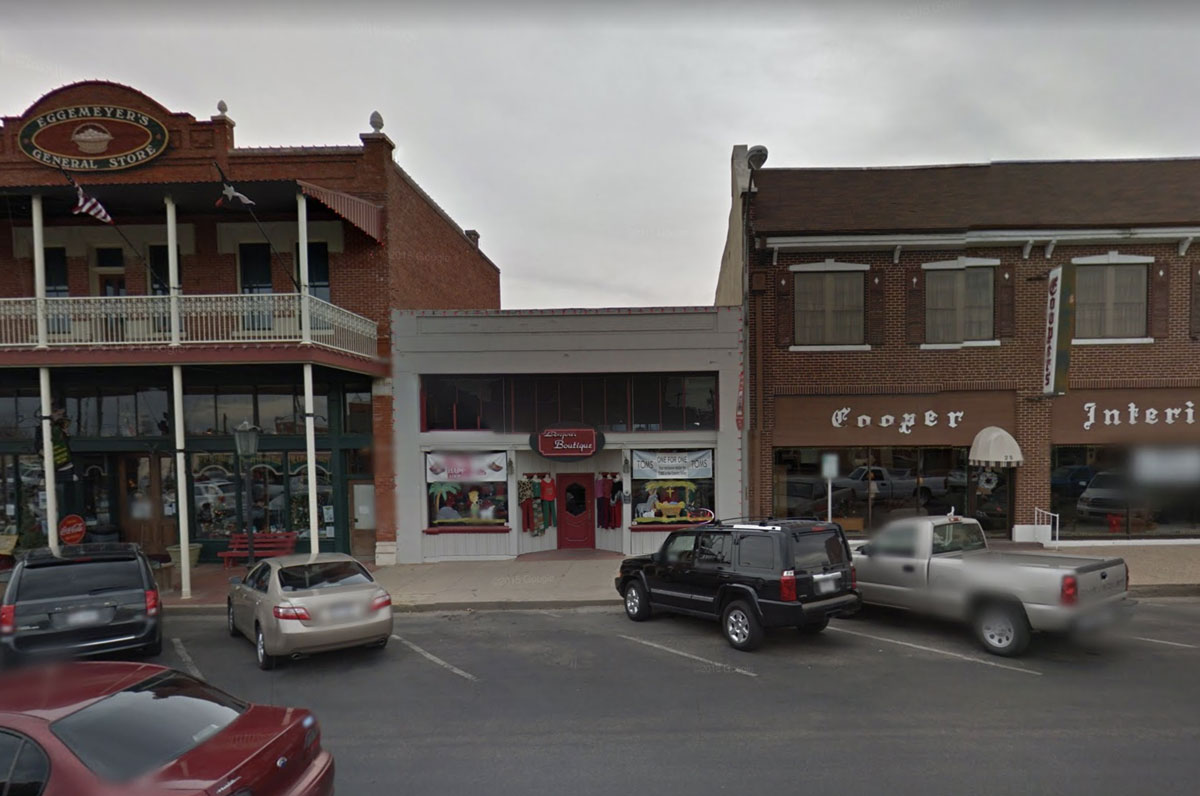 Above: Here are the same buildings just two years ago, before the former Cooper's Furniture buildings (right) were purchased and refurbished. (Google Earth Street View)
Eggemeyer researched the building at the West Texas Collection at Angelo State University. The addresses do not necessarily match up over the years. He guesses the building once was a bank. Next door, where the General Store is today, was a bar at one time. Between the two buildings was an arched double passageway. "Perhaps somewhere along the way, someone thought it wasn't a good idea to have a bank connected to a saloon, so the arched entryway was bricked over and hidden for decades with plaster," Eggemeyer said.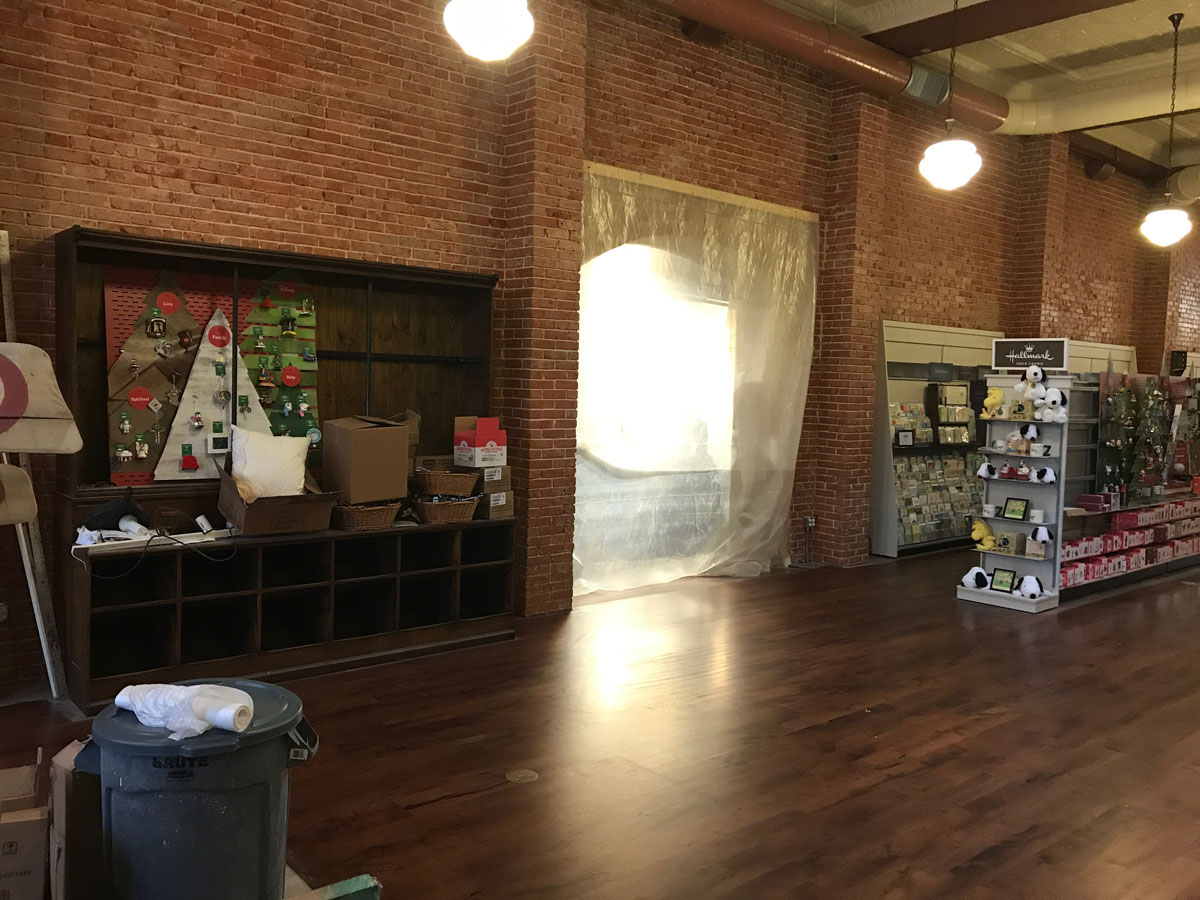 Above: The arched passageway between the existing Eggemeyer's and the new store. (LIVE! Photo/Joe Hyde)
Eggemeyer re-opened the arched entryway so that the original General Store will have an entrance into the high-end store. "There were lots of bricks," Eggemeyer said. So much brick was in the 2.5-foot thick entryway that much of it was repurposed for the interior of the façade for the new retail store.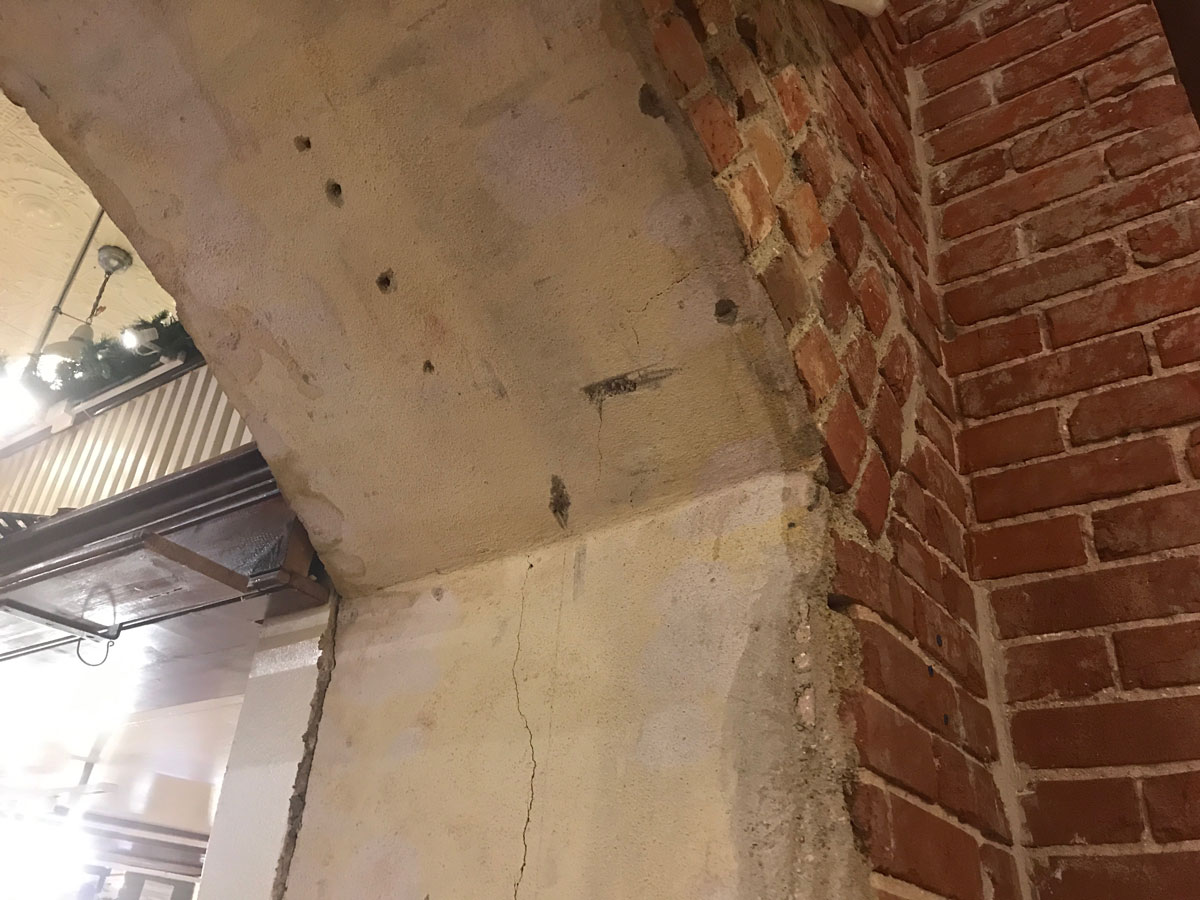 Above: A close-up of the arched passageway Eggemeyer uncovered and opened. (LIVE! Photo/Joe Hyde)
Eggemeyer is still attempting to describe the merchandise that will be featured in the new store for a general audience. He is calling it "high-end mercantile" for now. What does that mean?
High-end leather bags, wallets, purses. All of them can be customized. He said the store would carry higher-end brand named lines. "Something that isn't too 'crafty' but at the same time, unique enough that the manufacturer provides market protection, or exclusivity to local retailers," he said.
"Do you remember Hemphill-Wells Co. (the building where the Stephens Library is) or Nathan's Jewelers?" Eggemeyer asked, trying to make a historical and local connection with his vision.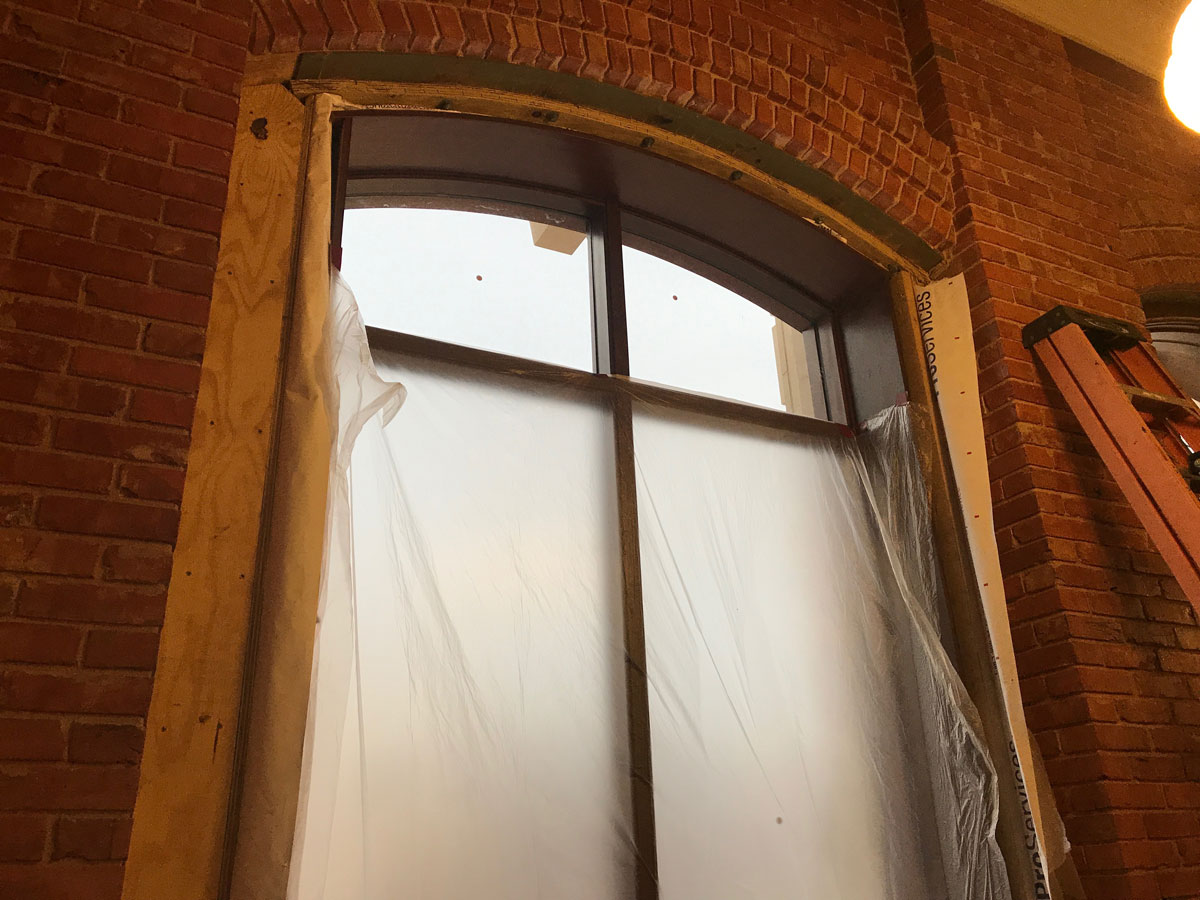 Above: The bricks that formerly blocked the hidden arched passageway were used in part to brick the inside of the storefront. (LIVE! Photo/Joe Hyde)
At the same time, Eggemeyer is mindful of the customer base. "You have to watch it, you don't want to overprice yourself out of this market," he said.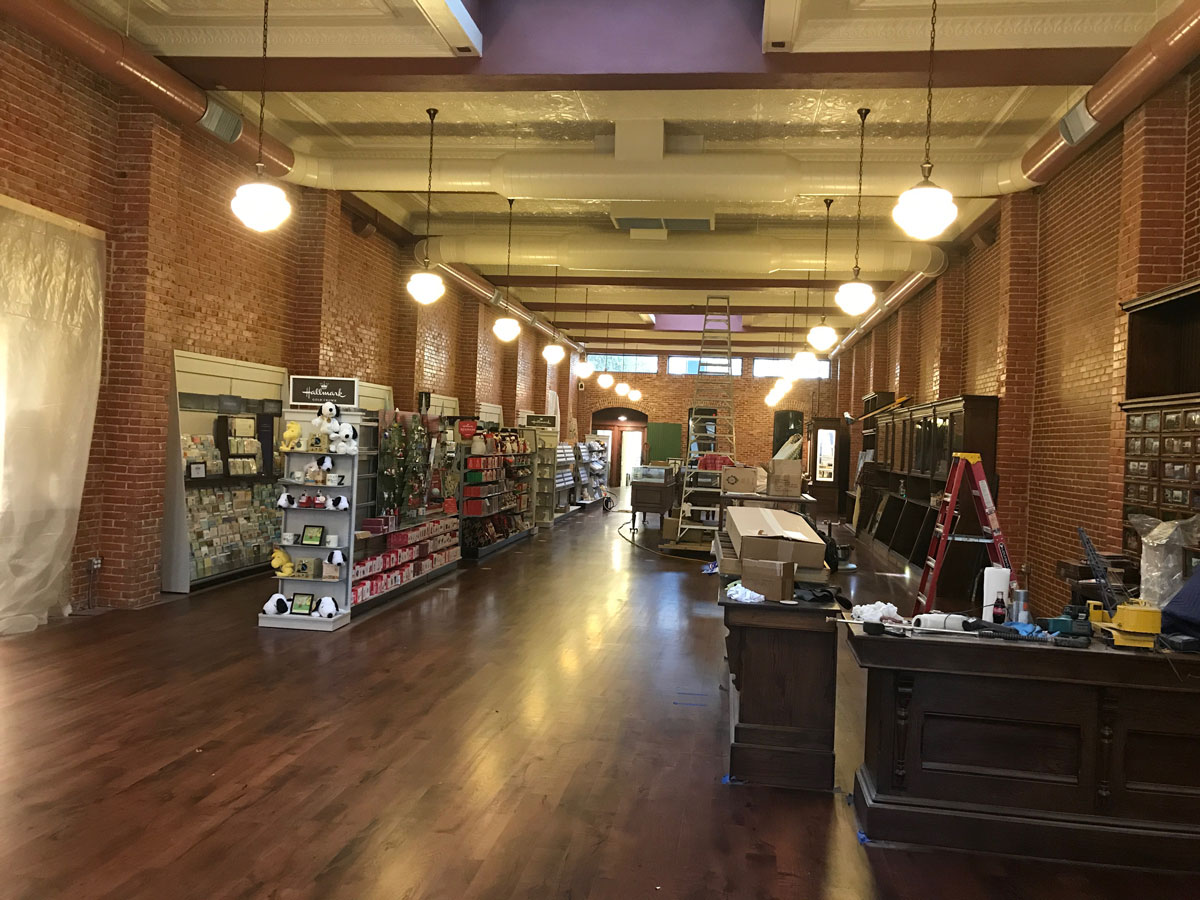 Above: Inside Eggemeyer's new retail store. (LIVE! Photo/Joe Hyde)
"The malls are failing and people are starting to come back downtown," Eggemeyer said. One day, with a nod towards today's architectural movement back to open air shopping experiences, he hopes, downtown will attract a big box anchor store. Forecasting downtown San Angelo's future, he hopes he is getting in on the Next Big Thing.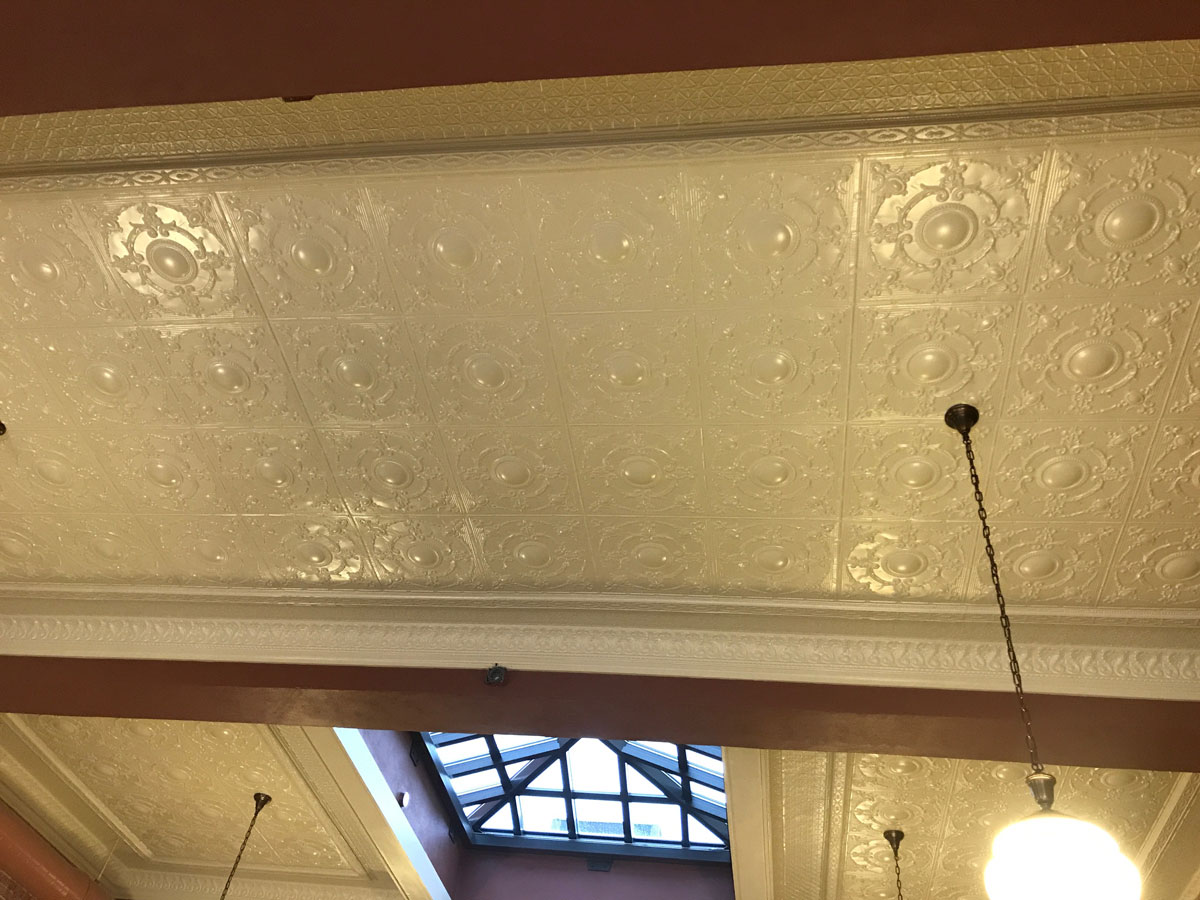 Above: The new store's tin ceiling tiles aren't original, but manufactured new to look like the original ceiling. (LIVE! Photo/Joe Hyde)
After all, if developers are building brand new replicas of town squares as the new mall of the suburbs, doesn't that make authentic and historical downtowns more attractive for retail?
It's all about experience. He said, "The economy here is good. Brenda Gunter is mayor. She's excited about all of this. We need more and different ideas downtown. I hope others will bring them and concentrate on the experience."
"There's room for this," he said.