SAN ANGELO, TX — David Golden is an artillery operator at Fort Concho this weekend. His field artillery piece is a 3-inch rifle cannon with a rifled bore. This is a replica of the original models manufactured by the Union beginning in 1861.
By the middle of the Civil War, however, many of these these cannons were captured by the Confederate States Army, so these artillery pieces were used by both sides, especially towards the end of the war by 1865. They are considered the most widely used artillery piece in the Civil War.
During the Battle of Atlanta, a Confederate gunner complained of the gun, "The Yankee three-inch rifle was a dead shot at any distance under a mile. They could hit the end of a flour barrel more often than miss, unless the gunner got rattled." (James C. Hazlett, Edwin Olmstead, M. Hume Parks: Field Artillery Weapons of the Civil War [2], p. 120, Google Books).
The rifled bore cannons were more accurate than the previous types with a smooth bore. A smoothbore piece can hit the building. A rifled bore cannon could shoot through a window of the building at a high velocity.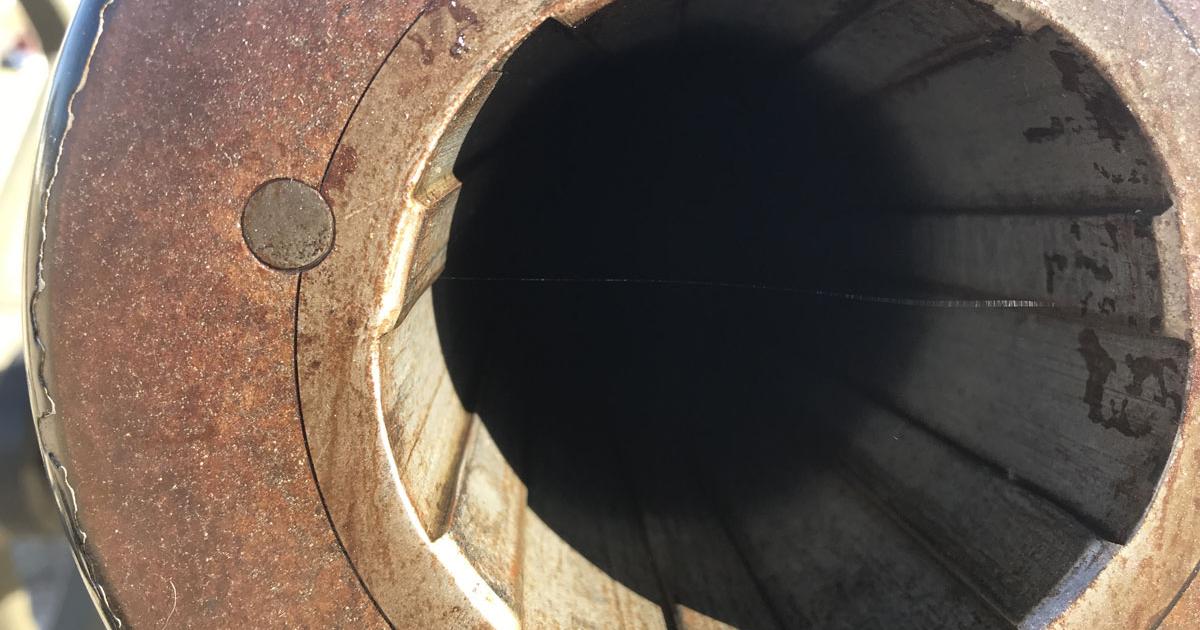 Above: The rifled bore of the 3-inch gun. (LIVE! Photo/Joe Hyde)
Golden travels the country displaying and firing his artillery piece at fairs and re-enactments. He lives in Odessa, but has family roots in Georgia.
In the video, Golden shows how to sight the 3-inch rifle cannon, technically called a rifled gun, using a Pendulum-Hausse Sight. The Hausse Sight was able to adjust the lateral (left-right) elevation of the gun.
WATCH:
The artillery being displayed at Fort Concho throughout the weekend do not have real cannon balls; everything being fired this weekend contains "blanks." But these guns can make some noise!
The guns are replicas. If the guns were genuine artifacts of the Civil War era, the metal would be too brittle, and, depending upon the condition of the piece, too valuable and unsafe to travel around the nation and used in firing demonstrations.
The artillery will be fired starting at 9 a.m. Friday for tours of classes from San Angelo's schools. Here is the full schedule for the artillery and when to be at Fort Concho to view their firing:
Friday, Dec. 1
9-11 a.m. - Students' day at the Rendezvous (artillery firing)
12- 2 p.m. - Students' day at the Rendezvous (artillery firing)
3 p.m. – Artillery drill (more cannons firing)
4 p.m. – Military Drills
Saturday, Dec. 2
11 a.m. – Artillery drill
1 p.m. – Artillery drill
3 p.m. - Artillery, infantry and dismounted skirmish drill
4 p.m. - Military drill
5 p.m. – Retreat and pass in review
Sunday, Dec. 3
11 a.m. Artillery Drill
1 p.m. – Artillery Drill
3 p.m. – Artillery Drill
The artillery displays are part of the Christmas at Old Fort Concho Celebration being held starting Friday, Dec. 1 through Sunday, Dec 3.